Helen Grant
There is much to write about this year's Norman Music Festival, but for now I'd like to tell you about some bands that killed it on stage along with those who took me by surprise. This list is in no particular order, for the record, but obviously I'm going to write about the band in the headline first.
If you like Jack White, The Black Keys, and blues licks in general plus one hell of a rocking show, you missed out big if you weren't in the Bluebonnet on Friday night. To be fair, I almost wasn't at that show either. But then I ran into a set of friends, one of which was insistent about The Trading Co., and I am glad he was. They got everyone so worked up in that awesome-rocking-good way every band should want to be known for.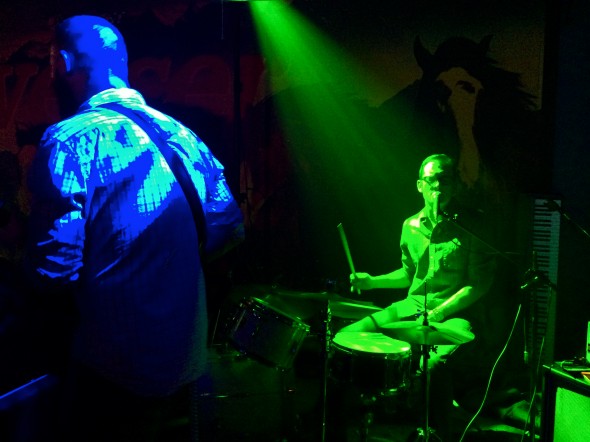 Josh Griffin, guitar, was playing out into the audience (and sorry, readers, that picture was too blurry to use) as well as going outside of Bluebonnet and enticing passerbys with their brand of blues rock. Jonathan Eldridge, drums, also brought energy to their set, most notably in the song "All They Had." I also loved their Orange amp because a) I've seen some bands I like who also use Orange amps in the past so there was some nostalgia tugging at my heart strings there and b) theirs was the Tiny Terror model. Which, completely unrelated to The Trading Co., also reminds me of The Cairo Gang Song about Tiny Rebels.  Actually if there is one band I'm writing about today that embodies the spirit of venue hopping and discovering new music to enjoy, this would be one of the ones who made going out to NMF7 completely worth it for me.
I saw these dudes on Thursday night at the Red Brick Bar. They're not my usual, not by a long shot, but I genuinely liked them. I was in the mood for something with high energy and screaming. You see, I've been listening to scream sections in songs from Night Beats' "Outta Mind" to Future Islands "Fall from Grace," and I just wanted to hear something with attitude and balls. I don't know how else to explain it. Plus their band poster caught my eye as I was walking by Guestroom Records. Yes, it was the furry wolf titties and the high contrast of yellow on black.
I don't think their bandcamp album does their live performance justice. Plus a little research via Facebook reveals they were testing out new material that night too. Although when I looked them up, I was surprised they had ties to Dust House.
Ok. Now for a band that was actually on my list. Again, the set of friends I ran into on Friday were also really insistent about this band too, which was great, because I'd already planned to see them at the Bluebonnet Friday. And my guess that they were a fun, energetic live show was not wrong. Plus it was sweet that lead Emily Alexander was singing to her husband Wade Scott at one point, which was echoed as a friend of mine also commented on this aspect of their performance that night. I was also amused by the ski masks and cape.
Pictures do not do this band justice. If I could embed a gif of the series of photos I took, you'd see a whole rocking band complete with a dancing crowd. Needless to say, they were on my list, and if you missed them this weekend, fear not. They and Em and the Mother Superiors* will be at Schwarzstock. Actually, more than a few bands who were at NMF 7 will be there. You should catch them May 16-17 if you can.
This was another random band I caught on Thursday night at Opolis' indoor stage. Their track "On Our Way (On My Own)" is good spacey electronica same said for "Black Moon Blues." If that's your deal, you might keep tabs on them for future reference.
They might the only band I'm writing about today that's not from Oklahoma, as they're an indie psych pop band out of Austin, Texas. But they were a lively set on Opolis's indoor stage Thursday night. At one point everyone but the drummer switched instruments on "Trouble in Paradise."
It amuses me greatly that my first encounter with this dude's musical talent was watching him sing R&B-style karaoke at the Voodoo Lounge after we went to Horse Thief's album release party for "Fear in Bliss" on April 18th (and yes, Horse Thief were also at NMF7 and will be at Schwarzstock). Some ladies got out on the dance floor, pseudo-sexual danced like they were having a lesbian threesome that at one point became a very spirited twosome. It was pretty funny to me. Fast forward to Saturday April 26th, and here he was opening Norman Music Festival main stage with his backing band the Townies – and that was not the scene in the slightest. It was also my first time seeing him perform his own songs live. He's from Norman and I suspect whenever he gets a bandcamp and/or SoundCloud you'll be able to hear more of that, until then, you'll probably just have to catch him around OKC. Do know that his dream lineup to play with in the near future includes The Trading Co., and Em and the Mother Superiors. And if he pulls that together, I'm there.
I did see way more music than this. Limber Limbs were awesome and I liked their new material. Barling had their last performance at Tres Thursday night. Lead Nick Poss tells me he's coming back in a new incarnation. I did catch Moon Giant and Defining Times Thursday night. I can always go for Horse Thief, same said for DEERPEOPLE. At some point I will catch up with Magnificent Bird and Luna Moth, as my Saturday music festival plans were cut short. But in line with unexpected surprises,  I actually did catch some of Love Cobra, a band I was willing to give a shot at NMF6 had I not been at Austin Psych Fest 6 that same weekend. All in all, it was a great weekend for catching live music. I hope in reading this you discover something new you hadn't maybe expected to hear or like for that matter.
*Edit 10:44 p.m. 4/28/14: I've been looking at too many lineups. Em and the Mother Superiors will not be at Schwarzstock this year. But here's the official roster if you're curious.