by Helen Grant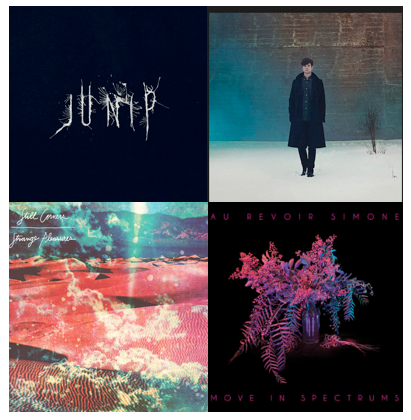 I don't often listen to local radio and I don't get pop country as thing that's meant to be enjoyed. I've tried. It doesn't work on me. Thus the atmosphere in and about OKC's metro forces me to look around for alternatives regularly. The real focus of my music hunt this year was to perfect the ways I manage my music listening time. I also had more introspective questions I explored this year about the nature of music and how it generates a kind of creative force in its listeners. And these questions about creativity are something I feel is reflected in the kinds of interviews I did this year with local and touring bands.
But coming back to management! Listening to hours and hours of music a day means targeting exactly what I want to invest time in, how best to find it, and taking opportunities to have my ears hooked-up to said EPs, LPs, singles, covers, as well as all those other LI$Ts out there. It's been a busy year, but I challenged myself to listen to music I might otherwise have overlooked because of a silly bias. Overall it's been a fairly good effort in both managing multiple music streams and juggling coverage related to it. Could it have been more streamlined, yes, but that's another goal for 2014.
On 30 songs from 2013 you're going to find music that kind of melts the lines between Psych Rock, Psych Pop, Dream Pop, Indie Rock, Shoegaze, Dub Step, Garage Rock, and on an occasion it is tinged with a blush of Indie Folk and Bluegrass. There's also a smidge of old school Soul and R&B. Did that read like ingredients on a bottle?  Here's the intended effects then: the majority of these songs are mostly beats and ambient peels of smooth reverb and/or crunchy reverb/distortion. And in more than a few cases, expect watery or airy vocals. It can kind of get spacey too. There's a reason I have a SoundCloud account called Dream Pop is all I'm saying.
But keeping it current with an eye towards the future, these 30 songs are all time-stamped with a fresh date of 2013. Some of them are even just-like new until 2014 as they'll likely show up on full-length albums coming out early next year, which is a post for another time.
Noteworthy folks on this playlist?
James Blake won the 2013 Mercury Prize for "Overgrown." Last year it was Alt-J's "An Awesome Wave" and the year before that it was PJ Harvey's "Let England Shake." These are artists I like, some I've grown up with like PJ Harvey, and all those were albums I loved and still listen to, so if you happen to like them too, then you understand why James Blake had to be on my list. It's not even about the Mercury Prize, but it is a good gauge nonetheless when you're trying to identify which artists and albums will hit home the most. This is to say I also listened to a lot of those artists on the Mercury Prize nominee list, and Laura Mvula, who was up for the award too, is also on this playlist. Her whole album "Sing to the Moon" was a great listen. I also liked David Bowie's effort this year, but to be honest, I loved him before I even knew there was a prize for being awesome.
Valerie June I had the pleasure to interview at Austin City Limits Festival. I saw Jim James in Tulsa, there was a collective swoon, and friends were made that night. I'm going to see La Luz in Norman on Jan 29th. Same said for Cate Le Bon on January 28. Ditto for Julianna Barwick, only she plays the Womb Gallery on Dec 23rd. I requested "Walking With Woman" when Rose Windows played Opolis this past November. And it was sooo good live too. I saw The Black Angels at Austin Psych Fest. With that in mind, others on this list like Quilt and Gap Dream will be some new bands to play APF in 2014. Night Beats is also another band with ties to APF and The Reverberation Appreciation Society. I saw Foxygen at Opolis in Norman in the Spring and then again this Fall at Austin City Limits Festival. I also caught Junip at Austin City Limits Festival, where they played "Line of Fire." Some people may know the song because it was used in a teaser trailer for Breaking Bad this year too. Barbarossa (James Mathe) has played live shows with Junip, and Mathe's album "Bloodlines" was one of my favorites from 2013.
Jenny Hval almost went under the radar, and I'm so glad I caught her album "Innocence is Kinky," because as Norwegian provocateurs go, this woman is off the charts in my book.  Plus she is an author! What's not to love really. The whole album is good, and the title track gives you a fairly accurate idea as to what you'll find in the body of her work. Bear in mind this woman also studied Kate Bush for her master's thesis and utilized John Parish production help. So again, if you like PJ Harvey you might like Jenny Hval's album, because Parish has collaborated with Harvey too. In that line of thought, "Let the Night Win" by Au Revoir Simone made me sit up and proclaim, "STFU! I want more." It's embarrassing how many times I've let them win the night when listening to the entirety of "Moving in Spectrums." The Growlers have put out two albums this year and if you love dirty ditties sung with a kind of jadeness and that has a low-fi twang of surf garage rock, then "Dogheart II" is your jam. Words can't even express how I love that slide and weird chord inversion I think I'm hearing.
Sumie makes me excited for what Bella Union (her label, and that also of The Flaming Lips, Horse Thief, Beach House, Fleet Foxes, Snowbird and others) has in store for new releases coming out early next year. "Speed Into" was weird, ethereal, and laced with a bit of cognitive dissonance lyrically. Speaking of "Strange Pleasures," Still Corners took my breath away with a song by that name. Drowner's "Glow" submerged my ears with a crunchy glowing reverb, they're from Huston, I hear it's muggy there. Youth Lagoon's "Wonderous Bughouse" was enjoyable listen for that reason too, and "Daisyphobia" drips with dew. Conan Mockasin's "Do I Make You Feel Shy" is R&B in a way I don't often hear while Myron & E's "If I Gave You My Love" is more old school and is only a small sample of what Stones Throw Records is putting out these days.  Wolf Alice's "Blush" I discovered by chance on SoundCloud somewhere. If you like the English author Angela Carter, know that Wolf Alice take their name from her work. Speaking of SoundCloud, an app I think just might be my favorite, I found The Dig, Pillar Point, and Blouse singles before they'd migrated over to Spotify too. That's true for many of the artists on this list. Ending this brief recap, The Dodos' "The Current" I feel is a great bookend for "Line of Fire." And because we've established that I don't care what Pitchfork thinks, I happened to enjoy the songs I heard on "Carrier" more than the stars they gave that album.
What else went into the making of this list? All these artists, with exception of a handful I'm still tracking down, have albums I bought this year. I decided one of the requirements this go-round had to pass the ever meditative question: "Did I appreciate this work enough to buy it?" If I said "Yes," or "It's on my to buy-list I just need to find it first," then it went on the list. All said, 30 songs could have been 190 and counting, and if you're looking for a super long list (190 songs, 13 hours) look to Songs from 2013. There are so many on there I wanted to include and had met the requirement of having been purchased in one format or another.
Anyway, 30 Songs from 2013 clocks in at 2 hours and 3 mins. It could be longer, but 30 seemed like a good number on which to end. If you want to use the Spotify embed below, instead of the link, just know that Junip actually starts this list off with "Line of Fire," but due to whatever quirk of copyright or licensing, you have to actually visit Spotify to listen to it. Or maybe it shows up for Spotify members and us non-paying heathens need to ante up the cash for a subscription so we can unlock all the benefits of membership.