Helen Grant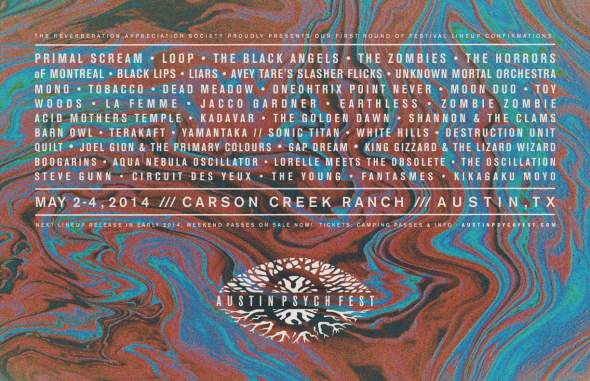 For the people who care about this sort of thing, I have to admit this year's lineup makes me blush, that's how much I love the bands they've confirmed in their first release. But is it worth the travel?
That is the question.
You know, I can't foresee the future, for all I know you, random festival goer, twist your ankle on your nature walk and complain loudly the rest of the weekend about how nature sucks and that I lied to you about how you'll have so much fun, STILL, here's what I DO know:
1. <sassvoice> Yes, it is worth the travel if you love psych rock! Watch out for rabbit holes. The End. </sassvoice>
1a. Add a factor of 10 to this initial YES if you love hearing twists in the genre that can sometimes veer into dream pop and electronica – so think Warpaint (who played there last year – unconfirmed – but fingers crossed for this year // dream pop) and Gap Dream ( confirmed // more electronica than traditional psych rock, and he's a Burger Records artist if that tells you anything).
2a. Add another factor of 10 to this already strong YES if you love hearing an eclectic playlist of new (QUILT stands out to mind) and old psych rock (The Zombies) all in one place, because Roky Erickson played last year along with others like Os Mutantes, and this year sees The Zombies – which would be a weird trip for me to see, because I just never thought I would see them, and here a grand opportunity presents itself to hear "She's Not There" from the source. And of course there will be others.
2. Since that initial YES has been tripled, here's what else you might like to know: it doesn't conflict with Norman Music Festival, which happens in April, so how are we (now triple excited genre lovers) saying "no"? We're not. Well, if you're okc.net, you're not even bothering with that weak ass excuse, because Austin Psych Fest happens in May.
2a. It's a weak ass excuse because we all know that "knowing in advance" is how we plan for pilgrimages to psych rock mecca.
3. Anybody who lives here and goes out for music more than they'd like to admit will tell you, when pressed, that some of these bands don't come through the metro all that often. This is of course heartbreaking if this is your favorite genre.
3a. For example: Unknown Mortal Orchestra came through last year in March with Foxygen, and have we seen them since? Although Unknown Mortal Orchestra is confirmed to play Austin Psych Fest this year, so who knows, there's a chance they might play a metro venue on their way down again. That's how Black Mountain, Stone Elephant, and King Khan and the Shrines rolled through the OKC metro last year.
3b. And fact is, King Khan and the Shrines headlined at Norman Music Festival on their way through to Austin Psych Fest. So if I had to place bets on the venues hosting all these psych rock lovelies, I'd say Opolis, Conservatory, Blue Note, and VZDs in that order.  Maybe Womb, but it would be a long shot, I think. But since we've established missing a whole weekend filled to the brim with artists in our favorite genre is unacceptable, 3b is more for the people who are still reading along. These folks might like to experience Austin Psych Fest, but 2014 might not be their year to go. I get that. Timing is critical. All said, keep your eyes open for local show listings before May 2nd and after May 4th. You will be happy to make the effort to attend at least one show. Hand-to-heart.
Which leads me to 4:
Living in Oklahoma can be hard if you're someone who prefers to religiously attend small concerts instead of mega churches. Hell, it's a downright struggle to stay sane in the face of just how blatantly self-serving our legislators are.
For instance, the issue to mandate that all public school children have to say the pledge of allegiance (because that's real eduction reform, how?), getting rid any sane barrier to gun ownership (because not only are everyone's gun rights under threat, we're all under threat, so we need people to function as a standing, yet very untrained militia*?) – like no mandatory gun ownership education or background checks – and, of course the perennial favorite, cutting funding to the arts (surprise, surprise that one), and so on and so forth.
And let's not even get started on this ridiculous ass Satanic monument brew-ha-ha. Personally, if these two opposing groups were my kids, I'd say no one gets to have any toys on the lawn. The End. But they aren't my children, and fortunately for Oklahomans, no one lives in my totalitarian dictatorship, so "democracy" takes over and our tax dollars (that could be better spent making our collective lives better) will be spent on the legal dispute that is sure to arise if a sane person doesn't take action now and end the debacle with an out-of-court compromise.
I mean, isn't that a lot to wear on a person's psyche in addition to the daily grind and sometimes lethal weather conditions?
Additionally, if you like books with visually trippy images, like the Juxtapoz Psychedelic book coming out February 3rd, which features the work of Oliver Hibert – who had a show at Womb Gallery in OKC recently – because you notice things like use of color, negative space, abstraction, geometry, symbolism, surrealism, and whole other host of 'isms and 'ologies, then you can experience, for at least a few days out of the whole year, a total visual and aural immersion. You might even brings some Sharpies and participate in some of the artsy projects you happen across this year. And Carson Creek Ranch is a beautiful place to visit. I generally hate festival camping, but just for Austin Psych Fest (and literally nothing else), I think I'm going to attempt camping again this year. For those not really into lugging gear other than Sharpies, they're also doing camping gear rentals.
So if you said YES to the nth degree about the genre and the opportunity to reset your Qi or whatever, then you won't be sorry you let the psychedelic rock shamans and their protegees, with their rounds of reverb, smoke, and swirly lights, draw out the poison. It'll cleanse your soul.
Need further proof that this is something capable of happening to you, yeah, I'm just going to borrow a quote from that King Khan and The Shrines article I linked to earlier. You see, frontman Mark Sultan said that writing and recording his last album "Idle No More" was a healing process.
"When discussing the 12-track effort, Khan, who makes his home in Berlin, cites gospel music as a primary influence, noting the themes of struggle and perseverance. 'There is so much joy in it, but you know that joy is coming from pain,' he says. 'I think that whole thing, you turn shit into gold, you turn misery into something that is positive and hopeful and in doing so you give other people who listen to it that same feeling of hope.' "
If you happen to listen to a lot of psych rock regularly, let me direct you to Al Lover. He uploads extended mixed "tapes" in the lead up to Austin Psych Fest and you may infer that they're genre spanning.
*Dear Oklahoma: you wouldn't need to promote idiotic gun laws to increase the number of militia laymen if your very real and capable National Guard soldiers weren't constantly being sent to the Middle East. P.S. Thanks, Obama.*