by Helen Grant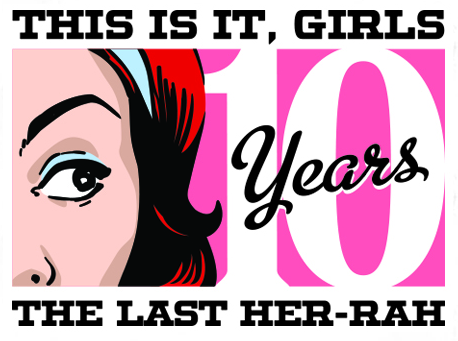 When I discovered this is to be the final Girlie Show, I'm pretty sure my first reaction was, "What? Why!? Really? Say it isn't so!" Which was then followed by a short period of denial, like, "This is temporary. It'll be back again. I'm certain." And then, when I made it through all the stages of grief, I accepted that, perhaps after ten years, the organizers were probably ready to move on.
And in the wake of this news, I thought: "This might give other gals out there the inspiration to step up and bring something new to OKC."
I base my optomism on a 2007 New York Times article "Handmade 2.0," that talks about the rise of these fairs and, of course, mentions the Girlie Show:
"For some years now, crafters have been selling on their own sites online. Craft boutiques have opened as fast as independent book and record stores closed. And a new wave of fairs has come to life, not of the country-craft, "Bless This Mess" style, but venues for a younger, more indie-punk aesthetic. These happen all over the country now — the Bazaar Bizarre in Boston and other cities, the Renegade Craft Fair in Chicago, the Girlie Show in Oklahoma City — and each one seems to get bigger every year."
It stands to reason that since we've all gotten accustomed to this style of event, and it's grown so big and gotten so successful, that something else that is wonderful will come along. Still the hammer's come down and this is the last year we'll see these particular Girlies at the Old Farmers Market Public Building.
In the past decade, a lot of us had networked, gotten cool one of a kind things, watched amazing shows, and generally just had a blast with old and new friends. I wouldn't say it was a right of initiation or even a secret handshake, but for all your friends who'd never been, much less heard of it, maybe you might have been all too eager to pop their indie-craft cherries come the next show. And if you met a new chick sometime during the year, and she knew about the Girlie Show, then you might have a good feeling you'd probably met a new friend just based on that fact alone.
Alright, if you've accepted this news, it's time to gear up and see this old friend out in style. She ain't coming back, but she is going out on a high note.
And for those still asking: "Dear stars and garters, why would they pull the trigger now of all times?"
Take a deep breath.
OK. Now let it out. Yes. I know.
You should read the interview below I had with Dawn Harth, one of the three Girlie Show organizers, a group that also includes Marilyn Artus and Erin Merryweather. Take heart, it all comes down to a very natural conclusion.
OKC.NET: I've heard this is the last Girlie Show after 10-year successful run, what prompted the desicion to call 2013 the final year?
Harth: Actually, it was just sort of an organic decision – nothing dramatic or particularly newsworthy. We've dedicated ten years to building something that we felt would be a great addition to OKC's art and social scene. OKC is a completely different city than it was when we began. Not because of the Girlie Show of course, but because there is a community of people here who understand the importance of events like this. We're just proud to be a part of what has been an exciting time of growth for this movement. And it's fun to go out in style …when things are great!
OKC.NET: Are there plans to do something different as a group again, or are all the founders working on their own projects?
Harth: We are definitely all busy girlies …but ya just never know… (insert wink here).
OKC.NET: Since this is the last Girlie Show, are there any special surprises planned to close out this 10-year run?
Harth: Look for lots of great entertainment both Friday and Saturday night. I think there will be a really wonderful vibe to the entire weekend.
OKC.NET: No doubt there will be some sad Girlies come the end of the weekend, what would you say to them about the heart of this event and the future of OKC's women-driven art fairs?
Harth: The sky is the limit! There is so much potential here – and hearts, minds and eyes are more open to it than ever before. We're just one interpretation of what's possible when creative minds and energy come together with a love for the community and for creativity.
OKC.NET: Is there anything I haven't asked that you'd like people to know?
Harth: The one thing I think all three of us would like people to know is how very grateful we are for the support over the years! The Girlie Show grew bigger than we ever imagined – and we've grown right along with it. It's an honor to have people support what began as a simple conversation between friends who shared a love for creating. We've seen artists who were too shy or too insecure in their work to ever show it come and find a place at The Girlie Show to show it for the first time. And to see their artistic endeavors blossom because people showed up and loved and valued and bought their work … that's the most exciting part of all. In that way, the Girlie Show will never end.
So there you have it. If you want to go and have never been, it is totally worth it. Plus you won't have another chance again. If you've been before and felt like you just got punched in the heart, go mend that ache by gathering up the girlies in your life and make a night of it. You can get tickets here, and I've read via the Girlie Show Facebook posts that V.I.P. tickets have all manner of goodies tacked on to them besides getting in early to get first dibs on arts and other goods. And if you want a sneak peak of who will be there and a way to check out their art a bit, here is the list of 2013 Artists.