This show airs 8 PM Sundays on E! The first two episodes discussed here are currently on re-run rotation.
It's a good time to switch up the dynamic on the global sensation known as Keeping Up with the Kardashians. Nothing too permanent has happened, but there are tremors and there is drama. Kim Kardashian has married Kanye West, who for a superstar carries a unique edge and values his privacy. They have a newborn named North. It's hard to believe he will want Kim to be on the show as much.
Elsewhere former Olympic gold medalist Bruce Jenner appears to be undergoing a tectonic identity crisis. There are the obvious signs of plastic surgery and rumors of a bona fide sex change. This honestly surprises me, as his behavior on the show at every turn says "Everyman," by making his family go on ziplines and kiyakes, makes dumb jokes at the table, takes the girls out in an RV to look for aliens on their birthday, his reactionary and macho refusal to participate in yoga with his wife and daughters. The only moment on television that betrays femininity at all was when he made friends with comedian-puppeteer Jeff Dunham and completely melted for the guy, even while Jeff was making fun of him in a Vegas venue full of people. But the whole Jeff Dunham bromance I think was just that, a romance of bros.  If it is true that Bruce is becoming a woman it is for one thing a bummer for his wife Kris Jenner, who puts on a public face beautifully (and has found a young black boyfriend in the meantime).  Two, it is genuinely surprising and the show needs to plot a diversion.
Enter Kourtney and Khloe Take the Hamptons, a spin off of KUWTK, but mostly with the same vibe and half the cast. Kourtney Kardashian and her boyfriend Scott (Lord) Disick make for the Hamptons and they bring Khloe, the more party-centric and tom boyish Kardashian. It's a beautiful house with close proximity to a beach. But problems arise immediately as they have in previous seasons, when Scott takes to drink. Khloe thus far in the first two episodes has played "Switzerland," as she calls it, between Scott and a wife, who is losing faith in him, and indeed has security lock him out (it's his house). When Khloe gets bored with Kourtney and the kids, she takes off to an awards event with her boyfriend French Montana (a rapper).
As a young man who also appreciates the finer things (Scott has found a way to Lord himself), I can't help but watch the show from Disick's perspective. Also because Scott always was an interesting case to monitor because of the strange situation he finds himself in, a reality TV supporting character in a family bursting with dominant female personalities. Kim, hell bent on superstardom, and "Momager" Kris Jenner, whom nothing gets by. There's Khloe, deeply heartbroken over a break up with Lamar Odom, and turning life up to level 11. On the numerous beach side vacations the families take, Scott's is the voice that is most often snuffed out. Maybe it's for the better. As Scott looks at his baby son in episode two, he says in conclusion, "He is a straight pimp. He's learning the ways."
This continues on Kourtney and Khloe Take the Hamptons, probably because they know it's their show. In this victory lap to the extravagant Kimye wedding season of KUWTK the drama has gravitated toward Scott. Probably because they are essentially at his house. The Hamptons, the former home of his parents who have recently died. It seems that Scott, in the hustle of Kardashian life, was never encouraged to visit his folks by his better half. Now this isn't to blame Kourtney; we all must live our lives. But it goes a ways to explain the undernourished grief underneath Scott's decisions to leave the house, now that they are finally there, and go to "work." Work being the numerous NYC parties waiting for Scott to christen them with a few words at the mic. He then takes shots and sprays champagne all around, and talks with his buddies, who impart sage advise. "I wouldn't answer," says a sweatered friend of leisure when Kourtney starts blowing up Scott's phone.
Based on headlines already released, tweeted, Instagrammed, TV gossiped, we know Scott's drinking is going to increase, and this will continue to deeply dismay Kourtney. In episode 2 he finally reveals a few of his own feelings in the off-set interview. He says being in the old parent's house makes him sad and he needs to find a place to clear his head. He somewhat regrets that it's out at parties, but going there is what works to clear his head. The problem to him is not what the problem to her is.
At a moment when reconciliation seems on the horizon Kourt, Khloe and Scott go play tennis. Khloe and Scott are ready to sport. However the Sphinx-like Kourtney finds the tennis ball launching machine, and starts shooting fastballs at the father of her children that she still hasn't married.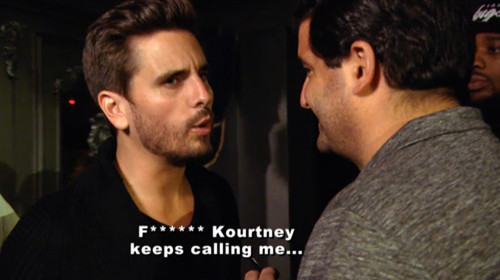 Also, what will Khloe make of the rest of her time at the Hamptons? The relationship with the perpetually chill French Montana seems too placid for this always interesting family.
But aren't most families interesting? That basic fact seems to elevate the Kardashian product above the other reality TV imitators, where the contestants are cat-scratching each other to some dopey American success story in the sky. I guess since the Kardashians are already there, they have the opportunity to just be as a family, each week to the next.