Helen Grant
The Plaza District is the perfect place for the socially-conscious urbanite who wants an area where they can live, work, and play. Quite frankly, business is good and the community is on a clear path to making their section of Oklahoma City a better place. I think as they reach 100% occupancy for their district's business side, they're at 96% now, we'll start seeing more positive changes pop-up in the surrounding neighborhood this year.
Here's why I think this will be the case.
First, because this kind of thing hits all my feels from pathos to logos to ethos, The Plaza District is socially aware of the community around it. I'd have to attend one of their business meetings to get a better feel for specific issues, like how they intend to deal with the homeless population, but the members of The Plaza District association are involved with the nearby schools and in middle-to-low income home ownership programs. I find this both smart and also heartening. From discussions I had with people who were invited, Friends of the Plaza ($40 annual membership supporters), employees of business owners in the Plaza, and some owners themselves, there is a clear concern they share in not gentrifying the area. Not that this was presented last night, but as I made my way through the neighborhoods to get to the meeting I noticed new construction on what is to be a Sunbeam Family Services location. And if you've read anything about what is best for children born into poverty, mixed-income neighborhoods can actually improve their academic outcomes.
Right now there is a grant from a KaBoom!, a national non-profit, set to help Gatewood Elementary get a new playground. There are some strings attached, because this is a community-led building project, so we'll have a whole article about that later (read: they're going to need a community that is fully on board). Additionally, Kristen Vails who is The Plaza District's executive director, also sits on Eugene Fields Elementary School's Community Advisory Board. See the slide below for more details of the The Plaza District's involvement.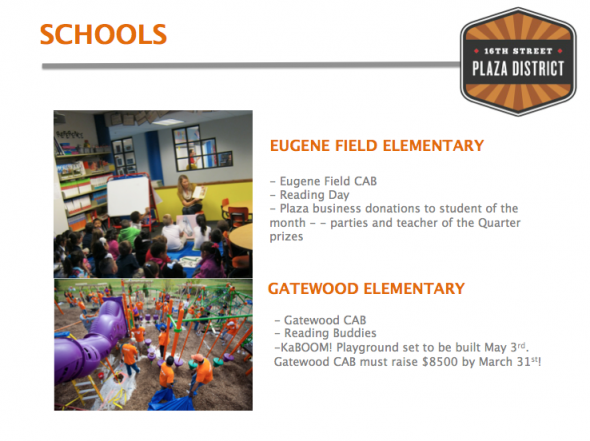 Second,  I spoke with Neila Crank-Clements, executive director of Positively Paseo, about their housing program, which has seen both growth and success last year as well. OKC.NET will take a look into their efforts, soon, but sufficed to say the program is aimed increasing home-ownership in the area. Take a look at last year's efforts and this year's goals. It bears mentioning that the program has served retirees, families, and recent college graduates.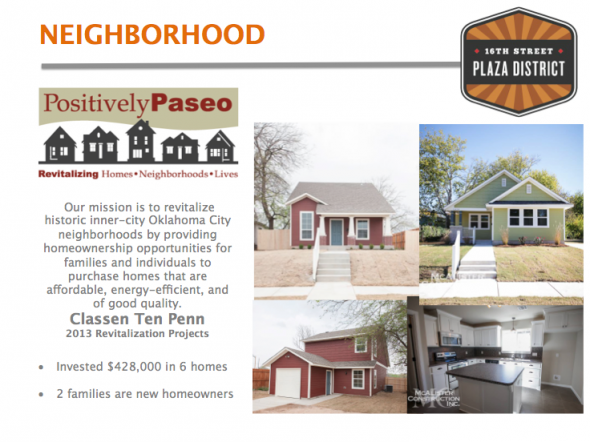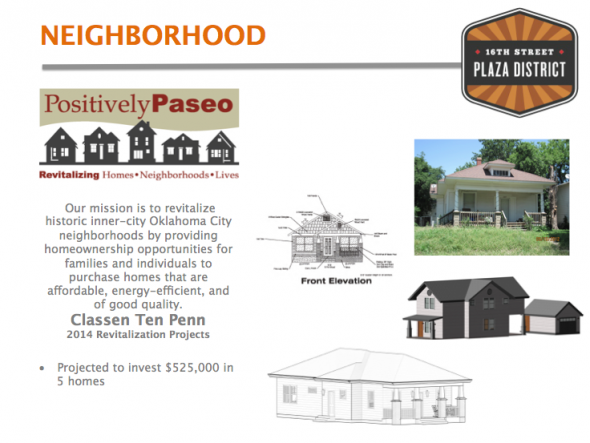 Third, as mentioned before, The Plaza District is almost full! You have to remember this was an area that had seen business turnover and the like as it tried to attract business owners throughout the past five years. Not easy considering the recession. I know OKC has been labeled "recession-proof," but that doesn't mean it didn't have an effect on business longevity. Right now there are 4 new businesses set to open their doors in 2014. And at least 3 of them are aiming for an opening date in either March or April. There's a Guatemalan restaurant currently undergoing renovation, Chiltepe's,  The District House (next to The Parish, think: coffee, beer/wine, food and venue for national touring musical acts), and there is Project 180 business office/residential space. This to say, there's a business on the bottom floor designed to cater to entrepreneurs who want to time-share a location that has meeting rooms and such, and there is a residential space above all this on the second floor. The Blair's Upholstery building has been purchased, but the new owner said his tenants are hush-hush as to what is to open in his space. I hear it's related to food and retail. At any rate, check who opened in 2013, quite the boom isn't it.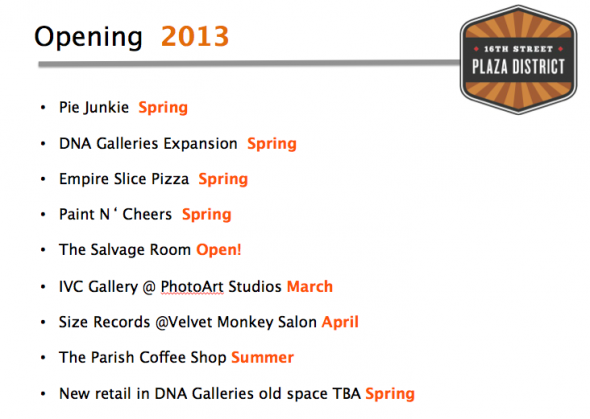 There's going to be more news from The Plaza District, for sure. But until then, I'm going to leave off on the growth of their festival, which by far was the best one I've attended. And it turns out it's been the first festival they've held where they earned a profit. Given the way they've been using their pooled funds to promote themselves, hold events, and help the community – and the fact that a number of key players moved from Norman to The Plaza District specifically to live where they work and to have easier access to all the other arts and business districts in OKC – I do believe 2014 is going to shape up to be an even bigger year than 2013.