by Mickey Reece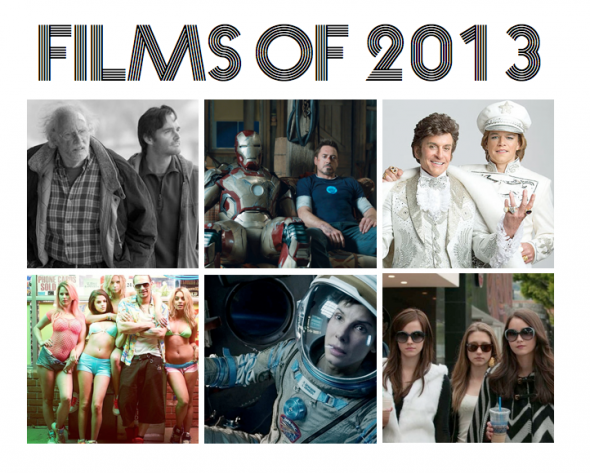 Top Films of 2013
1. Nebraska – I not only regard this as my favorite movie of the year but I could probably find a place for it in my top 25 of all time. I loved this film. Being 31 now and having an old man for a father who came from a small town where all they had was their cars, I was able to relate in so many ways. I've always liked Alexander Payne but he took it to a whole new level with 'Nebraska'. Reminiscent of David Lynch's 'The Straight Story' and 'The Last Picture Show' this is a finely crafted piece of machinery anchored by the magnificent performances of Bruce Dern, June Squibb and Stacy Keach.
2. Behind the Candelabra – Of all the movies on this list this is the one I saw the most. Most likely it was due to it being on HBO every other day, but I like to think it was because I just loved it so much. It was a breeze to watch multiple times. What a bizarre film. And to think I used to despise Michael Douglas. Now I think he's a goddamn revelation. Matt Damon is great, too. And Rob Lowe! Get outta here. Fantastic. Steven Soderbergh will have to make five shitty movies for me to turn on him again.
3. Spring Breakers – Harmony Korine made a movie that we got to see in theaters! And it has big (ish) stars! And Gucci Mane? While 'Spring Breakers' doesn't quite live up to the promise of Korine's directorial debut 'Gummo' it is still an exercise in attempting to recreate the language of film. While every other director is trying to figure out a way to incorporate his or her style into the conventional narrative that audiences are used to, directors like Harmony Korine and Terrence Malick are doing just the opposite by trying to incorporate that same narrative into their unique visions and of course falling short at creating anything conventional.
4. The Wolf of Wall Street – It would have been funny to say that David O. Russell made a better Scorsese movie this year with 'American Hustle',  but the master still reigns supreme. Scorsese made up for the lack of violence in his latest by turning up the tits, vag, drug use and general debauchery. Jonah Hill is awesome. DiCaprio still sucks. The rest of the cast is excellent.
5. Blue Jasmine – Woody Allen's 'A Woman Under the Influence' starring Cate Blanchett. Sally Hawkins and Bobby Cannavale are a delight.
6. Only God Forgives – Holy shit. Nicolas Winding Refn had it made. He had a hit movie in America that was actually good. He could have went on to direct an action blockbuster starring Shia LeBouf or better yet a comic book franchise! But NO he had to go and make the sequel to Alejandro Jodorowsky's 'Santa Sangre'. (Note: 'Only God Forgives' is not really a sequel to 'Santa Sangre'. This is just an inside joke.) Sucks that Ryan Gosling is in it trying to look like a super model with his perfectly groomed hair and nose job but at least he doesn't talk. Like at all hardly.
7. Dallas Buyers Club – I knew going into this it would be career best performances from McConaughey and Jared Leto but what I did not expect was such great direction. Having seen only one other film from the director's body of work 'C.R.A.Z.Y.' I'm now a fan of Jean-Marc Vallée and look forward to his next masterpiece.
8. Lords of Salem – I'm not really a Rob Zombie fan. 'House of 1000 Corpses' had it's moments and I like that he uses the same misfit cast every time but overall he is not a good director by any stretch of the imagination. When I saw the trailer to this I immediately thought of Alejandro Jodorowsky (again) and Roman Polanski. Something you don't see in films these days. Most cynics would have trouble with the acting and plot but it wasn't much of an issue for me. I was just waiting for the witches, monsters, static shots of the unknown and the pure evil atmosphere. When those elements did surface they did not disappoint. Also I was inspired by how cheaply the movie was made and out of Zombie's own pocket I've read. I hope the bad reviews and poor box office returns don't keep him from carrying on in this vein.
9. Iron Man 3 – It must have been a real boring summer for me to have gone to the theater to see this because I couldn't care less about the Iron Man series. I've seen the other two but I never think twice about them. I had heard some comic nerd rumblings about it not being consistent with the comic, but who cares? 'Iron Man 3' was a blast. Ben Kingsley was hilarious and frightening, Robert Downey Jr. is at the top of his game as Tony Stark and you know, the rest is just mindless action sequences. How could anyone not enjoy themselves? It should be noted that I had an equally good time watching 'The Avengers'.
10. The Iceman – Hell, I don't know. Slim pickins this year. It's been a struggle just to come up with ten movies I didn't hate. I like Michael Shannon in all of the roles he played this year: 'Man of Steel', 'Mud' … But I gotta go with this one as his best. Winona Ryder and Chris Evans play well, too. Ray Liotta always sucks, but not enough to cause any serious damage.
Close But No Cigar
To the Wonder – Gotta tip my hat to the genius Malick even though he cut me out of the finished product (I was an extra).
The Lone Ranger – I actually really liked this blockbuster western. Maybe because no one else did.
Gravity – A spectacle if there ever was one.
Mud – I love Jeff Nichols but 'Shotgun Stories' and 'Take Shelter' this was not. Still pretty good, though.
Trance – Danny Boyle back to his old self. Just having a good time filming Rosario Dawson's shaved vagina.
Piles of Trash aka "SOME PILES OF SHIT I SAW"
American Hustle* – The thing I love about David O. Russell's screwball comedies is that I feel like the little jokes and subtleties are there entirely for those elite few who are there to see those little jokes and subtleties. Here it seems Russell is trying to appeal to everyone so he dumbs it down and the result is uneven. Nothing subtle about this garbage. But the good news is the idiots who weren't that into 'Silver Linings' and 'The Fighter' are just gushing over this pile of shit. Well played Russell. Maybe next you can write the screenplay for the next Melissa McCarthy vehicle.
The Bling Ring – Come on Sofia. You're not even trying anymore.
12 Years a Slave – Steve McQueen, another great director, decided to make a Lee Daniels movie. I'm sure Oprah was on set somewhere barking orders as well. Tyler Perry showed up to have lunch one or two of the shooting days. I realize how this sounds, but I'm actually referring to how "Disney" this movie is compared his last film 'Shame'.
Gangster Squad – Ryan Gosling continues his pattern of acting shitty but this time he drags Sean Penn into it like the succubus he is.
This is the End – How many shitty "comedies" are they gonna have to make before we get another 'Tropic Thunder'?
*Editor's note: Not the greatest cinema ever, but it was enjoyable. Thanks for reading! Next up Danny Marroquin's Films of 2013 list…