The Soundcloud adventures continue. Let me reiterate: please keep your eyes on the road if you're going mobile with this. I really did see a lady hit a bicyclist at a four way stop last week, and although he was ok, it was crazy to see a guy roll off the hood of the car. She wasn't even going that fast.
Alright, in this week's effort to not become jaded and hateful with inattentive drivers, who I'm sure are lovely people when they aren't running bicyclists over, let's pretend these new songs are like sonic pupu platters that float down dreamily from the sky, as every song is its own soundbite. And they are, because all of today's selections come from different soon-to-be released albums.
There's a few different samples from the nostalgic and folksy to the ambient and electronic. Each of these songs have the sonic qualities of being airy and dreamy, which is not unlike the kind of ambiance found in old-school dreamy doo wop pop, which is to say you'd expect to hear the latter at an "enchanted" kind of sock hop. Although a few songs are not light-hearted when it comes to the lyrics.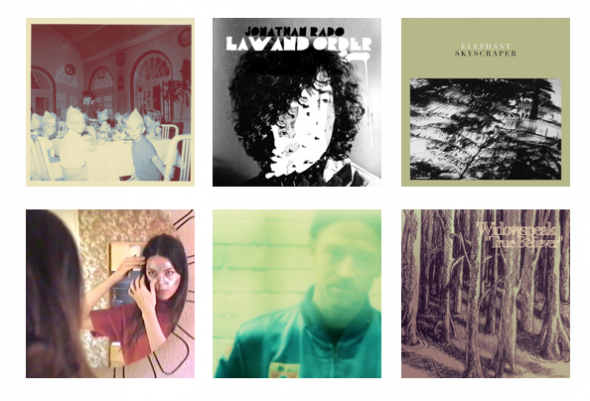 The first artist on this list is Jackson Scott, who is on Fat Possum's label, and based on the two tracks I've heard floating around recently there's a good measure of diversity in sound going on over there. "Sandy" sounds kiddie friendly. It's cute, hard not to love (although Scott tells Pitchfork it stems from a dark place because it is about Sandy Hook) but the track that is not on this mix, "Together Forever," sounds darker in a shoegazy, angst-y way and sounds nothing like "Sandy" other than you can tell the same artist is responsible for the production of both. "Evie" is another song that is out too. I think the LP "Melbourne," release date is July 23, is going to be a fount of familiar sounds arranged in an intriguing way.
This week also sees another song from Jonathan Rado with probably the sweetest, quietly understated relationship song I've heard in awhile. On "Hand in Mine" Rado seems to be channeling all those old "him and her" style duets. It also brings to mind the kind of romantic tension you might find in a song like "Anything You Can Do" except not as overwrought and show tunes-y. Some have criticized this track for not being huge on "wow" factor from vocals to arrangements, but I honestly don't think it needs to be a huge production to be enjoyable as it is. And where their harmony falters, it does seem to echo the lovers' sense of quiet romantic tension found in the lyrics. His duet partner on this track is Jaclyn Cohen. Rado's new album "Law and Order" drops on Sept. 3. (Yes, I am also ignoring all the drama Foxygen is currently going thru.)
Out of Memphis Industries, a label actually located in England and to whom Stillwater band Colormusic is also signed, is doing more of that same old-school sound, but with an emphasis on a doo-wop style production, via a band named Elephant. Their song "Skyscrapers" has so much dreamy sway, I would be surprised if people didn't conjure the spectral image of glimmering cities as clouds pass by hazy and light while listening to it. The English duo, Amelia Rivas and Christian Pinchbeck, have a somewhat tempestuous musical relationship and at one point broke up, but this single seems to suggest they've set their differences aside and are once again working on new material.
Also on this mix is a new effort from the Baltimore duo, Molly Hamilton and Robert Earl Thomas, Widowspeak. They're signed with Captured Tracks and they just released their sophomore album "Almanac" earlier this Spring, but they've announced there is a new in the works EP called "The Swamps." It has one track listed so far called "True Believers." I didn't think lead vocalist Molly Hamilton could sound any more honeyed than she already did on "Almanac," but "True Believers" has taken their ability to achieve that sound to another level.
Maybe because I find it amusing I decided "I Break Horses" new song "Denial" would be fun to place after the dewy lightness of "True Believers." Their Swedes and their music sounds like electronica-dance-shoegaze. Their last album "Hearts" received favorable critical reviews in 2011. I like them, but only in small doses. On this track synths keep everything airy despite the percussion, which drives the majority of the song's tension. They're also on Bella Union with label mates that include Beach House, Horse Thief, Fleet Foxes and The Flaming Lips to name a few. The duo, Maria Lindén and Fredrik Balck, will release a few songs in the lead up to a new album, although an exact date for a full length album has not been announced, some speculate it might drop in October.
Another Memphis Industries artist James Mathé, who records under the name Barbarossa, has a song set on Soundcloud from a BBC 6 session with Marc Riley. The whole set really caught my attention for its use of organs and ambient electronic elements. Honestly, I'm looking forward to Barbarossa's new album when it drops on August 5th. The song "Bloodlines" has an elegiac quality which strongly reminds me of another British band's effort, "A Whiter Shade of Pale" by 60s rockers Procol Harum.
"Bloodlines," and Mathé's whole set really, has an R&B quality that also reminds me of Jack White. And it turns out when I looked up more info about Barbarossa, Mathé was quoted as saying that "…it was Jack White who shaped the gritty, evocative sound that belies his new material. ' I read an interview with him talking about the process of recording totally analogue and decided I just had to make this record this way,' he explains. 'I have always been obsessed with vintage analogue gear and really fancied getting back to basics. I was tired of trying to iron out all the mistakes in modern production. I wanted to record live to tape, keeping all the mistakes in, warts and all.' "
I think where that really comes through most is on his track "Turbine."