by Danny Marroquin
"The Spectacular Now," the deadCENTER Grand Jury prize winner, screened to a near full house at the Devon Auditorium Saturday night. It's no surprise that it has already met with praise from audiences at other festivals. With deft clarity, it presents to us the problems of being a teenager who will eventually grow up. In an age where the men become men at around 28 if they are lucky, the attention this film pays to that issue is admirable. There are many coming of age movies, but how many of them get it right?  Most are just trying to get you drunk.
The film is not weighed down by its sense of reality, however. It starts off in the breezy 80s teen movie tradition, with a mildly neurotic and agreeable hero, who like John Cusack's character in "Say Anything," gets by on a smile while secretly wondering about his place in the world. Yet "The Spectacular Now" spins a new tale with actor Miles Teller as Sutter Keely. Sutter is played with striking naturalness and a sprig of faux Isaac Brock from Modest Mouse swagger. He is a cool guy, with many friends, and handy to have at the party. He meets comic book enthusiast Aimee (Shailene Woodley) who is bound for college, but not super popular. Through long talks and pleasant dates with her he begins to show some personal growth. He decides he wants to meet his father (a refreshingly flaky Kyle Chandler), whose general existence his mother and sisters are keeping a secret.
Other features of the coming-of-age story teen movie abound. What sets this film apart is that it is more interested in the drift of its young characters minds and emotions. For example there is a stock "friend" character in these movies who hears out the leads concerns, and in this case he tells Sutter that he isn't making a wise decision dating the uncool girl. The screenwriters (Scott Neustadter and Michael H. Weber) and director (James Ponsoldt) kind of forget this stock character entirely once the leads find more interesting things to talk about. Aimee is the one who will enable Sutter to start thinking about going to see his dad. In this general drifty-style the film reminded me of one of my favorites, David Gordon Green's "All the Real Girls." But the more I think about it, "The Spectacular Now" may be higher on craftsmanship than that cult favorite.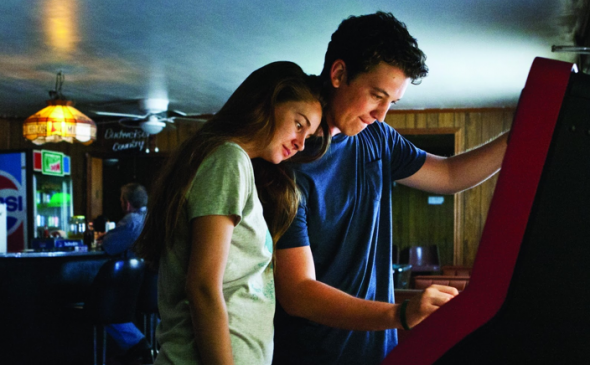 Another place where this movie goes beyond is in depicting Sutter's brush with early alcoholism. Another teen movie would have the drinking done at large set piece parties where people are either drinking responsibly or predictably throwing up. Here there are two layers to Sutter's drinking. He does a lot of it in private and on the sly. And two, there's a silent parallel between his and the father's drinking, which isn't an issue expressed dramatically in the script, but is nevertheless present throughout. As the supporting characters around Sutter start to grow up, his self-image grows cloudy and his judgments questionable, unmotivated. The clothing salesman who would like to be a father figure (Bob Odenkirk) can see that, and though he would like to help, he can't.
Indeed the movie presents a character who is on his own journey. "The Spectacular Now" had strong source material. The original novelist Tim Tharp was in the audience to answer questions after the film. A novelist at a film festival, he knew his audience with good humor. Despite appropriating a shaggy dog way of presenting himself as a mere novelist, Tharp went on anyway to say that one of the texts that inspired his sketch of Sutter was Soren Kierkegaard's concept Three Stages of Life's Way, which are: the aesthetic, the ethical and the spiritual. Sutter is stuck in the aesthetic. Appreciating the sun drenched river parties, with the music of Washed Out on the speakers, appreciating a drink with your friends, enjoying the pretty surface of life. Basically, living for the moment. For Kierkegaard, living for the pleasures of the moment will not be enough to sustain a thoughtful human, and so the film gives us an interesting everyman like Sutter who has the potential to move on to the next stage.
The film seems to intuit that most of us will never grow beyond the aesthetic stage. We will continue to plan for now, then wonder why things seem to merely happen to us in the circular progression that follows. "The Spectacular Now" shows us an entry into an environment that may have no exit. For Kierkegaard, and for the two young lovers in "The Spectacular Now," that first stage alone isn't going to sustain them. In their humanity, they are able to explore the possibilities together.
"The Spectacular Now" talks to its audience in the language of thinking teenagers, not a crazy Danish philosopher who wrote intensely incisive pamphlets that he distributed on street corners to almost no one. "The Spectacular Now" is enjoyable aesthetically, so it's easy to miss the message. But naturally the stages originally sketched by Kierkegaard haven't gone anywhere. "The Spectacular Now" is an unusually good, and useful, film for the young and old alike.
It may be a while before this film is made available outside the film festival circuit, but there is reading the novel should your curiosity be piqued.