by Colin Newman
Oh hey. Is it Arts Festival time again?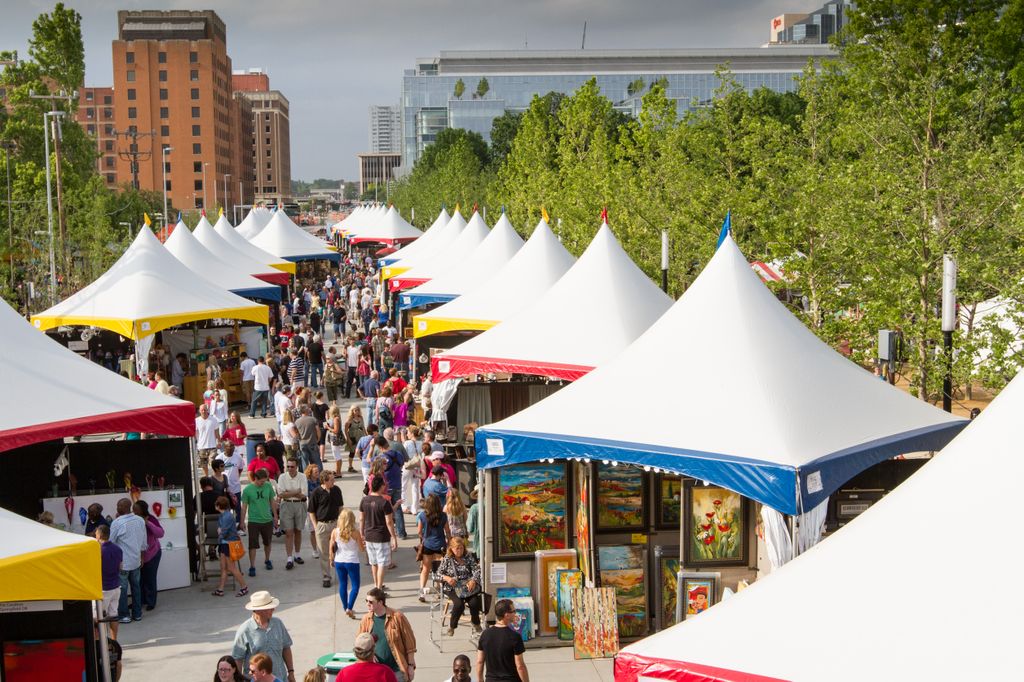 If you're new to the area or don't leave your house much, Festival of the Arts is basically a giant block party/arts market/picnic that takes place right in the heart of Downtown OKC each year. Almost a million people crowd in from all over to look at hundreds of artists selling art ranging from kitschy to modern, abstract to photorealism. This is OKC as it looks in every chamber of commerce brochure: lively, colorful, wholesome, and family friendly. Because it happens every year, it's also useful as a cultural barometer to track the changes in the city. Where 20 years ago the festival stretched from nowhere to nothing, now it's within walking distance of a great regional art museum, good restaurants, all of the new stuff on Film Row, Midtown, Bricktown, and various cool things in downtown proper. If nothing else, it's fun to get out and browse the booths, have a snow-cone on the Myriad's lawn, and enjoy the thunderstorms that inevitably occur during it. It's also an unparalleled venue for people watching; it's like the state fair without all the meth. This is as much a compliment as a joke, people.
Here's what's new this year!
FOOD:
On tap will be, as ever,  food booths where local restaurants sell to the masses and raise money for charity, like a delicious walk-a-thon.
"New additions to this year's International Food Row include Inca Trail Peruvian Restaurant, Temptations Food, Wong Key Asian Pacific, and Waffle Au Som."
They have added a Culinary Arts Stage for cooking demonstrations this year, where some of the best chefs in OKC will demonstrate their skills. Also on the schedule is what is likely to be an epic throwdown between the guy who runs Saturn Grill (pork ninja Joseph Royer) and Tabb Singleton, executive sous chef at Emeril Lagasse's NOLA Restaurant, sponsored by The Pork Council, which is like the Illuminati, but with pork. BAM!
ART:
You can see the list of artists this year here: http://www.artscouncilokc.com/visual-arts
Also worth checking out this year is the children's art market, where kids can make and sell their art. This teaches children the valuable lessons that you can indeed be a working artist and avoid the life of a stuffed suit, and that if you actually want to pay your bills with art, you are at the mercy of market forces.
PERFORMING ARTS:
Complete list and schedule here: http://www.artscouncilokc.com/performing-arts
Enjoy the Festival of the Arts, people. It's as much about being there and being a part of the community as anything else. After it ends, you can go to the H&8th after party up the street on Hudson, or you can go home and be boring like that. Up to you.