This is part two of my three part neighborhood guide about Downtown OKC, covering the Midtown neighborhood. As with the last installment, I have relied heavily on the flat out awesome Lynne Rostochil for her amazing photos and depth of knowledge. Lynne's comments in are in blue.
Midtown is really just the north end of downtown, but it feels like it could be miles away. An early target for aggressive investment and urban development, many of the 1920s and 1930s-era buildings are still in various states of speculative renovation, as testified by the "MIDTOWN RENAISSANCE" signage everywhere.
It indeed seems that something on the order of a rebirth is in progress here, albeit in fits and starts. The area is "economically diverse," encompassing everything from public housing to affordable Mesta Park 4-plexes, new apartment developments, and the ultra luxe mansions of Heritage Hills. This mixture gives it a more urban feel than the central business district proper, as does the constant buzz of activity around St. Anthony's Hospital and the near-constant buzz of drunken merrymakers around Plaza Court. This is, in short, the sort of neighborhood that snake oil salesman and yammering self promoter Richard Florida claimed did not, and perhaps could not, exist out here in the prairie provinces.
See
Plaza Court
This old restored shopping block – the first outside of downtown proper – stood empty for years upon years, a routine travesty of post-bust OKC. Thankfully, it has since been reborn as an anchor of sorts for the entire neighborhood, testified to by the MIDTOWN sign tastefully added to the original PLAZA COURT sign in recent years. The building houses upscale and not-so-upscale dining, as well as the midtown YMCA. Music afficianados take note: the basement of what is now McNellies was once The Bowery, OKC's premiere punk club in the 1980s.
Designed by the local firm of Hawk & Parr and constructed for the then-mighty sum of $150,000 in 1927, Plaza Court was OKC's first "suburban" shopping center and boasted 55,000 square feet of retail and office space.  A year after its construction, radio station WKY moved in, complete with room for a 20-piece orchestra and boasting an "air cool" system that made the sound-proof studios a whopping 20 degrees cooler or warmer than scorching or freezing outdoor temperatures.  Veazy's Drug and Crescent Market also claimed storefront space, but when residents began moving out of the city core into the suburbs in the 50's, Plaza Court fell on hard times that would not reverse until the 2000s.
St. Anthony Hospital
The effort to prevent St. Anthony — located in this neighborhood since its founding a century ago — from abandoning the city center for a suburban Southside campus was the immediate impetus for a lot of the capital that flowed into this neighborhood a decade ago. Scrubs-clad docs and nurses can be spotted walking the area at any given hour, and the hospital complex itself is a quite imposing presence. The top platform of the parking garage is the ideal spot from which to watch downtown fireworks displays, and the waiting room of the ER is the ideal spot from which to watch the failure of the American medical system. I kid because I love. The good people of St. Anthony's performed the cornea transplants that gave me my sight back. If you were considering going blind, it's not a fun experience. Nothing in the natural world is better when viewed as a indistinguishable blur.
Also worth mentioning: the great mid-century Pasteur Medical Building, which was designed in 1951 by John Bozalis of Bailey & Bozalis (later Bailey, Bozalis, Dickinson & Roloff).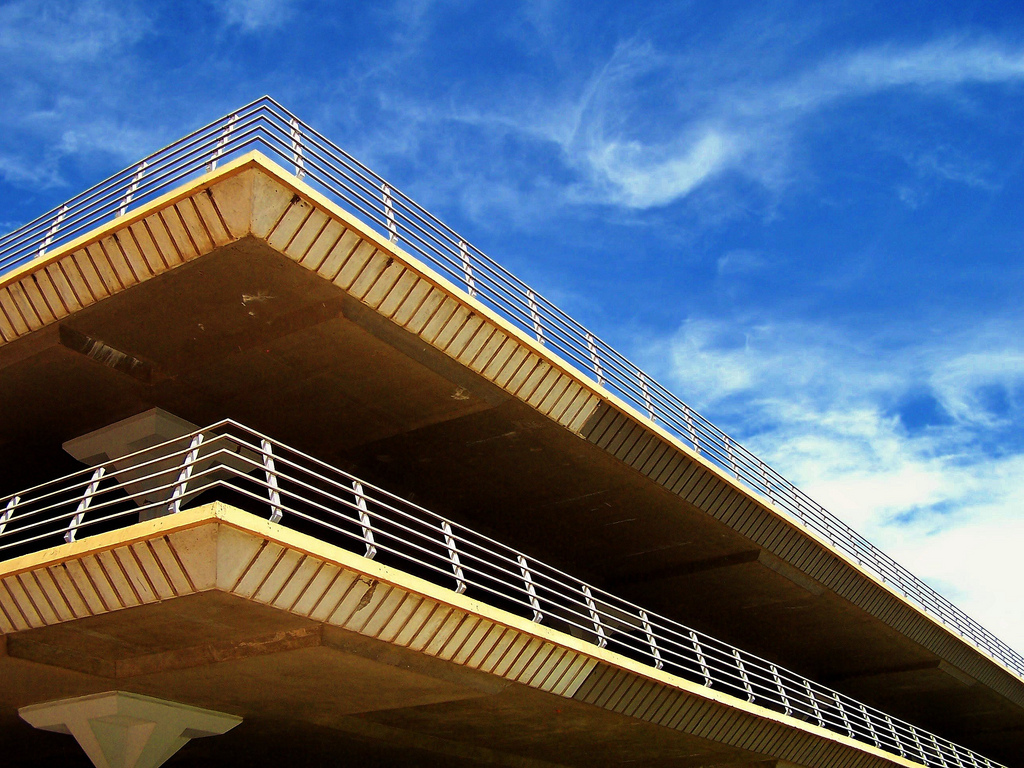 Located within a mile of three major hospitals, the 54,000 square-foot, three-story streamline moderne structure was built to house doctors' offices, labs, and a pharmacy.  Within four years of its construction, John Bozalis was called in to design a 25,000 square foot annex, which sits on stilts and runs lengthwise from the back of the original building, creating an L-shaped complex.  He also designed a distinctly mid-century modern parking garage next door, which was named by the OKC AIA as one of the city's most significant structures in 2002.  Almost 60 years later, the original building (along with annex and parking garage) has remained largely unchanged over the decades and still serves as doctors' offices (for St. Anthony Hospital now).
Villa Teresa
When someone I know jokingly proposed to "drive the damn Irish out of Midtown," this institution, along with St. Anthony's and McNellies, would likely be the best bulwark against his damnable lace curtain buying, bangers and mash eating English intentions. A century old Catholic school, it enjoys a sterling academic reputation and is housed in an ancient and lovely building which would, if it came down to it, make a quite sturdy English-repelling fortress. So throw up the barricades and sing the old songs, boys. I'm sure the cops will be on your side.
Overholser Mansion
When people name a lake after you and then turn your house into a museum, that probably means you have some solid connections. Henry Overholser was one of the first of the OKC fathers, and this lovingly maintained Victorian mansion gives you some feel for how the fortunate 1% lived at the turn of the 20th century. They lived really really well. Oscar Ameringer once described OKC as "a city as wealthy as Athens in its prime", and at least in this neighborhood, that doesn't come across as hyperbole. The surrounding mansions in Heritage Hills (formerly known as Overland Park) — built for the early cattle barons, high ranking railroad functionaries, Packingtown bosses, and eventually oil and gas aristocrats — are by turns impressive and decadent, stately and gauche.
Designed in 1902 by William S. Matthews, the three-story, 11,000 square foot home (complete with ballroom) was built on the vast and then-empty prairie and became the social center of the burgeoning city for decades to come.  After the last of the Overholsers died, the Central Oklahoma AIA purchased the building in 1972, including its original furnishings and many family heirlooms, and the Oklahoma Historical Society became the home's caretakers.  These days, Preservation Oklahoma manages the mansion, which has undergone an extensive renovation and is open for daily tours.
As with most old homes and buildings, several visitors and docents claim that the old mansion is haunted.  Activity has been reported in the 3rd floor ballroom, and a ghostly young woman dressed in white (aren't they always?) has made appearances in the 1st floor music room.
Oklahoma Heritage Museum
If you can get past the fact that this museum was named after two of our most execrable oligarchs, you will find it to be a fascinating journey into some of the biographies of great Okies past and present. The setting, in a lovely old office building, ain't bad, either.
The Roman-Corinthian-styled building, designed in 1927 for the Mid-Continent Life Insurance Company, was designed by Layton, Hicks, & Forsythe, who seemed to design every building of significance in the city during the first part of the 20th century, including the Capitol, Taft Middle School, and the Skirvin.
First Unitarian Church
I'm a third generation Unitarian. I went to this church for a while; its mix of radically non-committal theology and hushed, NPR- toned sermonizing quickly reminded me that I like to sleep in on Sunday. I even went to Unitarian Church Camp; from what I can tell, it had way less sex than Falls Creek and way more nachos. That being said, it's a lovely building, the parishioners are friendly, open minded, and intellectual, and the coffee is usually of a higher quality than other denominations. It's probably even fair trade certified. If you want to meet a girl who knows how to weave a dress out of wheat, this might not be a bad place to start.
EAT
McNellies
The OKC version of the Tulsa institution is far superior to the Tulsa location, based on the third floor view alone. The food at McNellies, while generally quite good, is really an afterthought. The main event, and the real reason to go to McNellies, is the beer. You can get choose a pint from approximately 8,000,000 beers, and get bottled versions of 8,000,000 more, of every variety, from all over the world. It's more pricey than your standard $1.50 longneck at the neighborhood juke joint, but it's also better.
Cafe Do Brasil
A local legend, famous for their breakfast menu, roasted meats, cocktails, and bossa nova. I love all of those things, and so do you, whether you realize it or not.
In a slightly macabre note, the unique chapel-like atmosphere of the restaurant owes to being housed in the former Garrison Funeral Home.  Here's a lovely little article about the building from The Journal Record.
Brown's Bakery
A veritable citadel of the pastry arts in the heart of the city, Brown's has held it down at 10th and Walker since long before the forces of gentrification moved in. If you work downtown, you owe it to yourself and perhaps your fellow co-workers to stop in here in the morning. Fried foods don't make you fat. That is a myth. This substance around my abdomen is actually just a layer of spongey muscle, ready to leap (or more realistically, hop windedly) into action at the merest provocation, such as attempting to take a donut without asking.
Kaisers
Kaiser's Ice Cream has been around for a century; for years it was the only ice cream parlor in the city staffed exclusively by hippies and recovering drug addicts; now, reborn as Kaiser's American Bistro, they have redone their menu, spruced up the ice cream, and will happily serve you a milkshake with booze in it. BOOZE MILKSHAKE. When Sonic figures out how to take this concept to the world of fast service drive in restaurants, they will quickly eclipse Devon as the richest and most powerful corporation in the city.
Prairie Thunder Bakery
One of my baker friends was skeptical when this place opened, describing it to me as a vanity project with no real "bread cred." He was completely wrong. If they didn't have game at Prairie Thunder, they would be long gone by now. If you are thinking of going to Panera Bread, stop, turn the car around, and go to Prairie Thunder.
Irma's Burger Shack
So many people I know have worked here, so many have eaten here. The patty melt is still the best anywhere.
Stella
Lynne tells me that this building was a filling station in the 1930s. It is still one, of a sort. Stella specializes in Italian food, but not Olive Garden Italian food. Modern Italian Cuisine. The Italians didn't just come up with three recipes and call it quits, but you wouldn't know it from most restaurants. Everything about Stella is light and airy and friendly, but not loud. This place is so classy that if it were a girl I would feel kind of bad about lusting after it. It seems too innocent and lovely for the likes of me.
1492 New World Latin Cuisine
Duck enchiladas? Duck enchiladas. It's tasty, I promise.
This mid-century modern gem with excellent views of downtown was originally part of the Beverly's chain.
Boulevard Cafeteria
The last of the great local cafeterias, Boulevard occupies a strange position as both local watering hole and power center. It is not unusual to overhear a bit of high powered political gossip over your equally high powered plate of chicken.
GETTING THERE AND AROUND
You can either take a bus to the central depot or an ambulance to St. Anthony, then go north. You could also drive I guess, but parking can be a trick on a busy Friday night. Midtown is roughly the area between NW 13th St and NW 6th St. and between Robinson and Classen. Walk or ride your bike if you can.
SAFETY
Not an unsafe area, but the occasional street crime is not unheard of. Keep your wits about you, trust your instincts, and don't get too friendly. I know that's hard for us Okies, but it's good advice.
(c)2011 – All photos by Lynne Rostochil. If you use them without her permission, the Overholser ghost will come to your house and break your computer. First Unitarian and St. Anthony postcards borrowed from the amazing Doug Dawgz Blog.