On the Monday following the Oscars, Vogue went to its social media outlets and suggested that followers look through photographs of starlets on the red carpet and read Andre Leon Talley's thoughts on the best and worst looks of the evening. This is pretty standard fare for the fashion world. In lauding Renee Zellweger's gold Carolina Herrera dress, Talley explained, "She stood out, while so many other ladies this evening were simply quite ordinaire, rather than extraordinaire, in strapless dresses." Talley continued on in his description of the dress choices he saw as "safe" and "ho-hum" and then asked, "Where were the women taking risks…?"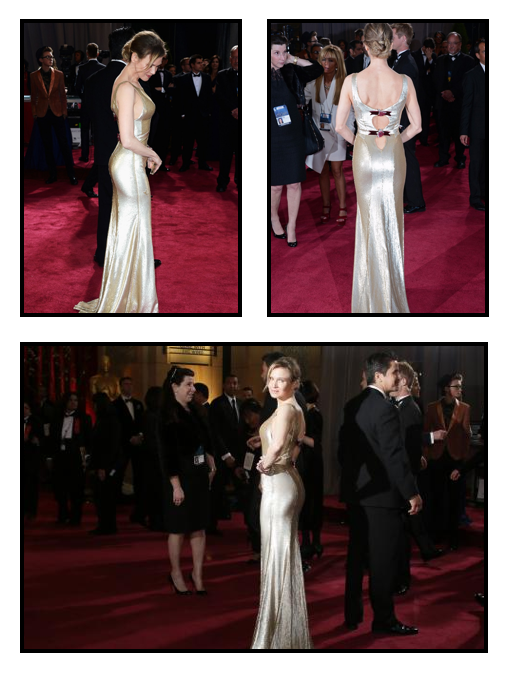 On one level I agree with him; there weren't really any standout dresses on Sunday's red carpet and that's disappointing. However, I can't help but take issue with Talley's boredom. Every year fashion magazines fill their pages with editorials commenting on the best and worst dressed of the awards season. Their focus is not only on the most recent garments donned on the red carpet, but they also rehash the best and worst of previous years. Bjork sported the swan dress to the Oscars in 2001 and it has been referenced every year in fashion coverage since. In twelve years, neither print nor television has allowed her to move past that single fashion decision. Even the pink Ralph Lauren gown worn by Gwyneth Paltrow in 1999, originally praised by fashion critics, reappears year after year with new critiques suggesting that it needed to be steamed or could have used any variety of alterations.
The inability to escape the constant stream of criticism has resulted in the homogenization of red carpet fashion. The women on those red carpets have listened and they've taken the advice of Vogue, InStyle, and the Fashion Police. The women have found themselves stylists since, according to a variety of publications, they're completely incapable of choosing anything flattering on their own. Every woman coming down Sunday's red carpet looked pretty, but none of them looked particularly interesting. This is the result of giving up a personal point of view in exchange for perfection.
The urge to create and the urge to critique are related, but it's far easier to do the latter than the former. If the internet has taught us anything (and that is sometimes debatable) it's that everyone has an opinion, but not everyone has an original thought. This mentality takes a toll on art and artists. Critics have always demanded perfection from their subjects, but now that they have it they are terribly bored. After years of destroying every shoe that stomped down the carpet, Joan Rivers wants to know why women seem to so frequently rely on simple nude heels. After decades in an industry that thrives on questioning the motivations of risk takers and harping on every fashion "misstep," Andre Leon Talley now wants to know where the swan dresses have gone. He ponders the whereabouts of the Bob Mackie head pieces and the Gap button ups. He can't seem to understand why there are so many perfectly hemmed, strapless, column dresses coming down the runway. With nothing remarkable left to criticize, Talley now seems intent on shaking things up, if only so that he'll be left with something negative to say.