1. Myriad Botanical Garden's Pumpinkville Halloween Party Oct. 27th in OKC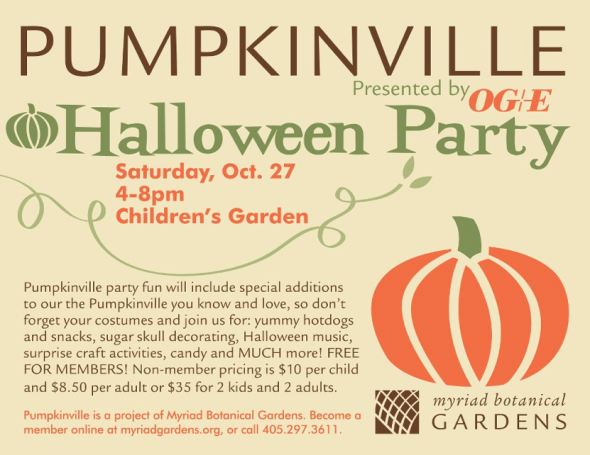 There's nothing particularly spooky about the Myriad Gardens, but any excuse to visit one of my favorite spots in the city is welcome. If you have kids in tow, this is a Halloween event that won't leave them with a permanent neurosis.
2.  Gazette Halloween Parade – Oct. 27th in OKC.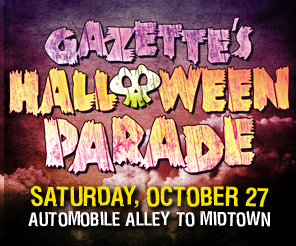 The Gazette provides a great service to the city by having this parade every year. I think, based on no evidence, that it may be the largest Halloween parade in the country.
3. Haunt the Runway 4: Vampires in Bricktown Oct. 27th in OKC. We already wrote about it. So check it out here.
4. Rocky Horror Picture Show:
Boom (OKC): Oct. 26the and Oct. 27th at 9 p.m and Oct. 31st at midnight.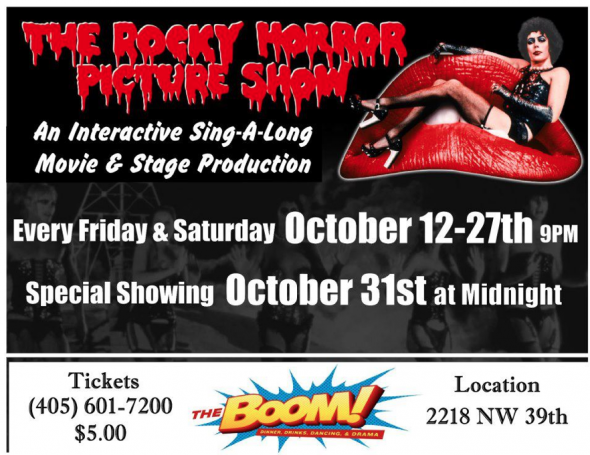 Oculus Gallery (OKC) Oct. 31st 9 p.m.-2 a.m.
Sooner Theater (Norman): Oct 31st at 10 p.m.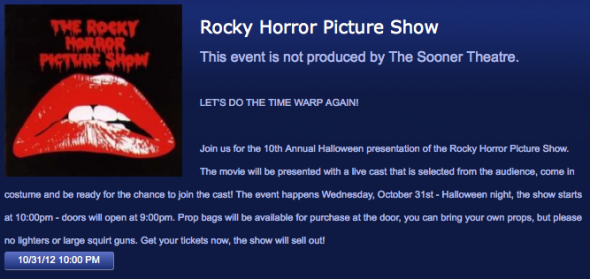 Rocky Horror is one of the greatest shows in pop culture. You have at least three different venues in which to experience the camp classic.
5. Evil Dead The Musical Oklahoma: Oct. 26th and Oct. 27th at 7:30 pm and again 10:15 p.m. There's also a show on Halloween check their website.
[youtube]http://youtu.be/sdyRQsZpgYE[/youtube]
Not as campy but just as classic.
6. Halloween Latte Art Pour Down Oct 26th at 8:00 pm in Edmond at Cafe Evoke.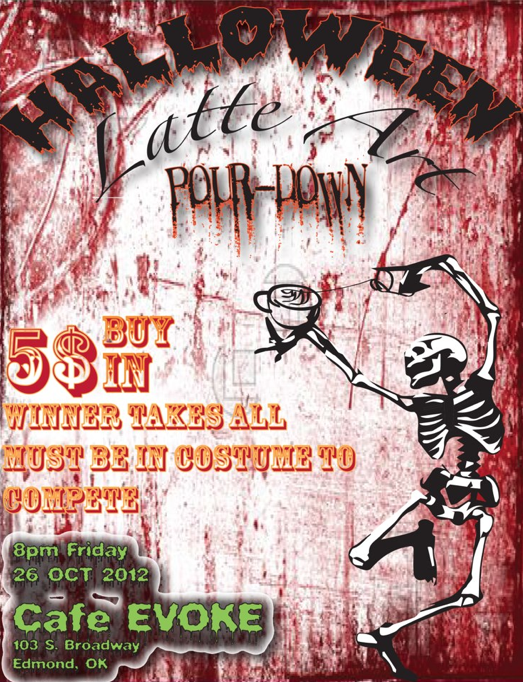 We like coffee.
7. Story Book Forest October 23rd until Oct 31st at Lake Arcadia. Check the link for details.
Another good kid friendly pick.
8. Halloween Show at Ampy Shampy with Brother Gruesome, Depth and Current, Kyle Reid, and Magnificent Bird. Oct. 27th at 8 pm in Norman. $5 per person. Dress up and win candy. There will not be heat, so don't come as a slutty___ or you will be cold. Unless you're super slutty and then you might be able to find someone to help you stay warm. Costume ideas for that are NOT slutty: a slot machine, a vagina, buffalo, mosquito, fish, bag worm colony, a bowl of oatmeal that doesn't spoon anyone, Baptists, Mitt Romney, a Hamburglarsaurus's penis…more ideas can be found on the event webpage.
9. Night of Grand Guignol French Theatre of Horror October 5 – 27, 2012 at the The Broadway Theater in OKC. They are sold out for Oct. 26th but still have some for Oct. 27th.
Directed by Timothy Berg
Le Theatre du Grand-Guignol ("The Theater of the Big Puppet"), named for Parisian theater that produced live naturalistic horror shows in the late 19th and early 20th century, Guignol horror scripts are short and meant to be performed several in one night. Gory special effects, violence, sexy and titillating antics are to be expected. Friday night show is different from Saturday show, which includes special appearances by OKC Improv. Not recommended for patrons 17 and under.
10.  2012 Magic Lantern on the Paseo in OKC. Oct. 28th at 3:00 p.m. to 7:00 p.m.
Sunday, October 28, the
Magic Lantern
returns to the Paseo, where children can create and have fun with a different twist on the Halloween tradition. Community artists are offering children hands-on costume-making workshops from 3:00 to 6:00 p.m., followed by a "Spin and Sparkle" where children can parade in their costumes from 6:00 to 7:00 p.m.
All that children need to do to prepare for the event is to have an active imagination, wear their everyday clothing to Paseo, and be ready to find wonder in paper and bits of glitzy possibilities. Discovering and Doing are the main ingredients needed to make the most of this event.
The celebration will culminate in a grand finale when children can display their costumes during a street dance and a parade through a giant winding labyrinth."This is a unique experience where children can be part of a multi-layered arts event involving wearable art, creative movement and a touch of theatre. I am delighted to watch the children who attend become immersed in the creative process, their faces glow from inside out," says Lorrie Keller of Theatre Upon a StarDanceSwan.