Aside from joining a cult or signing up for the military, nothing you can do will change your life quite like having a child. Moving to a new city, breaking up with your boyfriend or girlfriend, getting a new job, going off to college – all of those things change what you do and where you do it, but having a kid changes the TYPES of things you do. The world is full of people who used to like R-rated movies, fine dining, and rock concerts, but who now like Nick Jr., Sesame Street on Ice, and Gymboree.
Being a parent is a major bummer a lot of the time when you are cleaning poop off something for the gajillonth time, but it's also full of transcendentally awesome moments. The key to these moments is context. Get your thirty bags of supplies together, call together the support and logistics team, because you're going out. Here is where you are going.
For children ages 2 and up.
Admission:$3 children (ages 6-17). Children 5 and under free. They are also a Blue Star Museum, so military families get free admission between Memorial and Labor Day.
Better known to kids across the metro area as "The Dinosaur Museum", SNOMNH (the acronym for the museum, and also what you say when you're trying to warn people about an army of killer snowmen through a gag made of duct tape) is an entirely different experience with a little one in tow. While the allure of extinct mega fauna has probably dimmed somewhat for you over the years, kids understand that dinosaurs are just really freaking cool. This is not the biggest museum ever, but it does have one of the largest dino skeletons you will ever see in any museum, and a glass elevator that puts you eye to eye with the skulls of meat eater and planter eater alike. There's also a kids discovery zone where children are encourage to not only touch things, but go on their own dig.
For kids of all ages.
Admission: Adults (ages 12-64) $8, Kids (ages 3-11) $5, Seniors (ages 65 and over) $5, Children 2 and under are free. Military discount: 50% for members, spouses, and up to five dependents.
Kids love animals. The zoo has a bunch of animals. There's even a petting zoo. Need I say more. Yes? Ok. The OKC zoo is the oldest in the southwest (we can pause here and have an argument about what region Oklahoma is in. Are we done? Good.) and is one of the nicer urban zoos in the country. Seriously. Have you been to the one in Chicago? Sucks. No lie, we have a good zoo. I recently went there with my wife and 20 month old son Elliott; he was fairly uninterested in the proceedings until we got to the bison, at which point he stared in slack jawed amazement and said, and I quote: "Whoa." Other animals that rated a "whoa" were the grizzly bear, black bear, and a few others I don't remember. He was also taken with the large cat exhibit, pointing at each and exclaiming "kittykittykitty!"
The weapons grade cuteness is worth the price of admission, but be sure to go in the spring or fall, or if you brave it in the summer, go in the morning.
The Omniplex (technically the Science Museum of Oklahoma)
For kids of all ages.
Admission: (they have a graph, see picture below)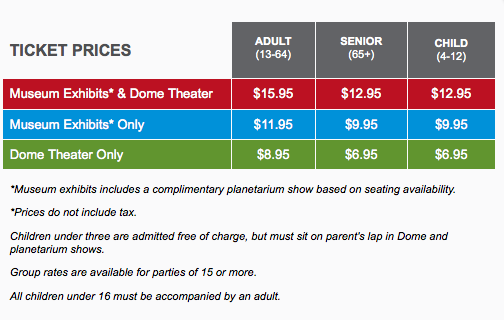 It's called Science Museum Oklahoma now, but The Omniplex is what it will always be to those of us who grew up knowing it by that name. Between the vintage early 1980s exhibits and some new additions, this museum has enough interactivity for the most restless tot and enough natural wonderment to crack the most jaded hipster. Add to this a healthy measure of nostalgia and some astronaut ice cream, and there is no good reason not to go. They also periodically do cool shows and free activities.
For kids of all ages.
Admission: A sense of adventure.
An oasis in the sprawl of far north OKC, Martin Nature Park is a rare lovely bit of unspoiled cross timbers nature, with a learning center straight out of a Wes Anderson movie. You can hike around, let the kids run and jump and gawk at prairie dogs, and if anyone breaks a limb, Mercy hospital is right next door. Bonus!
Martin Nature Park also offers programs going on from late August to September. Prices range from $2 to $25 a participant. Check their website for the list of dates and programs available.
For kids 3 and up.
Admission: Whatever you want to spend in tokens to play games.
You thought all the arcades were gone? Nope. This video amusement cave has persisted for decades in the dark recesses of the far WePo at 10th and Council. Whether you like pinball or Dance Dance Revolution or Hepatitis B, Cactus Jacks has something for everyone. I once won 5 very odd animal hand puppets playing skeeball here.
For kids of all ages.
Admission: Cash only. Adults tickets cost $6, Children (ages 3-10) tickets cost $3.
The magic of a drive in movie is that all of the normal rules of movie etiquette are suspended. Since children don't care about the normal rules of movie etiquette, this is possibly your best chance to go to an actual movie in the next decade or so. Let them run around. Who cares. You're outside. Check their website for movie listings, dates, and showtimes.
For kids of all ages.
Admission: Whatever you want to spend.
The Rand Elliot designed Rt 66 landmark is the sort of place that I wish had existed when I was a kid. What All-American child doesn't love a decorative glass bottle of sugar water and a giant hamburger? That was a rhetorical question. I don't actually want to hear about your vegan hippie parenting tips. While you're up there, head out to Lake Arcadia.
For kids of all ages.
Admission: Free/lack of inhibition about lake water
Lake Arcadia is better than going to the swimming pool, because it's more fun to swim in nature, it's free, and they went to the trouble of trucking in a bunch of sand to create a pretend beach. Swimming is awesome, but look out for that blue green algae. (Oklahoma: Where Lakes Are For Looking At!)
Other features include: picnicking, camping, swimming, water skiing, boating, disc golf, and hiking / biking / equestrian trails. A fishing pier and a heated, covered dock is provided for year-round fishing for bluegill, channel catfish, blue catfish, and largemouth bass.
For kids of all ages.
Admission: Outdoor facilities are free, but the Crystal Bridge costs $$$: Adults $7, Seniors (62+) $6, Active Duty Military $6, Students (13-19 or w/valid college ID) 6$, Children (4-12) $4, Children 4 and under are free.
The Myriad used to be a fairly sedate affair; the Crystal Bridge was cool, and there were some ducks and stuff, and that was about it. Now that the whole thing has been redesigned, it's probably the single best place to take your kids in the city for a day of playing at the kids park, feeding ducks and koi fish, and just general meandering. You can also walk to some great restaurants in the area, like Joey's Pizzeria off Reno, or have a family picnic  right there on the grounds. There's even a special dog park too. The Thunder Fountain may still be closed for repairs. Check the Myriad Botanical Garden's website or Facebook page to get info on its status as well as to find out what's going on in the park.