Heading east on 36th street in Oklahoma City, the landscape changes. The flat, pin-neat vistas of the northwest side are replaced with what is known to geographers as "the cross timbers": blood red hills covered in lush, emerald green vines and clusters of scrub oak and cyprus trees. It feels earthy and wild. The effect is one of life exploding and sprouting all around, covering everything in sight, forever pushing forward. It is a fitting setting for one of the city's hidden treasures. Nestled snugly into a patch of untamed farm land is one of the best recording studios in the state. Diamond Recording Studios, located at 1732 N.E. 36th Street, is locally legendary, well known for expertise, talent, and top flight equipment, and for deep roots in the Oklahoma City music scene going back over 30 years.

Legends in Their Own Time

Diamond is owned by Charles and Barbara Burton, legends in the local live music scene (2001 inductees in the Oklahoma Jazz, Blues and Gospel Hall of Fame), and is operated and managed by their son, Charles Burton, III or Tre' to his friends. Tre', Charles, Barbara and several auxiliary musicians comprise The Burton Band who play every weekend at local venues (most notably at The Waterford). This is a family that lives and breathes music, and the payoff for their dedication has been tremendous.
Maybe You Need Bigger Ears
Tre' grew up in a musical home. Both of his parents are proficient songwriters, singers and musicians, and they opened their home to the local music community back in the 1970s. Diamond Recording Studio actually began in the Burton's home in 1973, meaning Tre' literally grew up in a music studio.
Because of this influence, Tre' picked up a set of drumsticks, and by the age of 9, he was prodigiously good. Charles was a jazz guitarist, and the two would play together, providing Tre' a range of unique abilities at a young age. "I remember growing up that music was always playing in the house," recalls Tre', "We would do chores to Wes Montgomery and Charlie Parker records." Jazz was certainly influential, but the Burtons exposed their children to a wide array of genres from swing, bassanova and the samba to Memphis blues, r&b and gospel. "I listened to these types of music and then I mimicked them until I had the sound perfected." Tre' excelled at listening to and picking up the melody of songs, "My father called it having 'big ears'. It's where you could listen to a song and tell what it would be by knowing the melody." Because of this exposure, Tre' highly values musical versatility. "It was this guidance that gave me the knowledge to be tuned in harmonically and be able to keep up with today's rhythmic patterns. The one thing that stays the same is that any crowd we play to will dance."
The studio drew the attention of national acts that came through Oklahoma City, as well as the cream of the local crop. Tre' recalls when one of his heroes, Donny Hathaway came through town, "Hathaway came to our club and set up. I ended up jamming with him that night after hours." Tre was eight years old at the time.

Practice Makes Perfect
Tre' realized at a young age that his protean, unorthodox ways were a good foundation, but that he needed more formal training. "I only had a rudimentary understanding of what I was doing. I couldn't read music when I was younger, but I could feel it." Tre' enrolled in band at Millwood High School, where he played 1st snare. His band director, Edgar J. Scott, taught Tre' how to read music, the rudiments of percussion, and important exercises to strengthen his wrists. "I trained like an athlete," says Tre'. After that, he took on piano. "The most valuable commodity in this business is songs. I wanted to start writing music so I learned to play piano so I could compose them properly."
Blinded by Fame
Tre's dedication to his craft, and desire to hone his skills would take him to places he'd never dreamed. When Tre' was in college, his younger brother Sam died tragically. His world upended, Tre' went home "just to get away." However, it wasn't long before Tre' escaped straight back into music. It was back home that he hooked up with cousin, Donny Horner. He and Horner put together a band called Colorblind with their friends Dwight, Jerry and Ronny. The five of them started recording songs until they were able to play their compositions live. They were soon discovered by producer, Fred Garland, who helped launched the careers of the quintet by getting them a deal at Capitol Records. Colorblind started opening for major R&B acts, and soon their album, Crazy, went gold.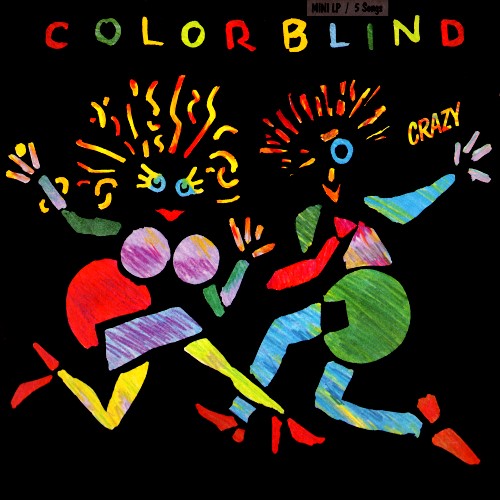 "We were promoted as the up-and-coming, young group that was going to take the music scene by storm," says Tre'. Before they knew it, they were riding in limos and Rolls Royces and being promised the world by their producers and managers. However, the path to success is never a straight line, and after 4.5-5 years of waiting on their moment in the spotlight, things began to grow strained. The producer on their new album also produced another band called Dayton. He tried to take members from Colorblind and use them in Dayton. It was then that Tre' knew that his band was just not going to get what they were due. "I talked to my father about my frustrations. He told me, 'Let 'em fizzle out.'" Tre' did just that, and he returned home to play with The Burton Band and work as a session-man at Diamond.

If we build it, they will come
The Burtons were strategically placed to produce and engineer music for whomever came through the city, and they recorded and produced records from every genre of music. Eventually, they had grown so much, that they decided to take things to the next level. Moving the studio from their home to a brick & mortar location was the first step. 11 years ago, Barbara Burton told Tre' to find a building. He found the perfect location on the Northeast side, and three weeks later they bought the whole property. They spent time renovating the building, fixing the acoustics and sonically correcting the walls.
Since Diamond found its own building, they've been drawing a wider and wider variety of clients. Most recently, this year, award-winning rap artist Waka Flocka Flame came to the studio and rapped on an album with Kevin Durant and James Harden of the Oklahoma City Thunder.
In addition, Diamond Recording Studio acts as a pipeline for Kanye West's production company.
Everything but the Kitchen Sink
Though Tre' plays consistently with The Burton Band and his own band, Casino, he spends most of his time up at the studio overseeing production. When I asked him to describe the inner-workings of the studio, Tre' responds, "We're a kitchen and we can cook anything we want: rock n' roll, country, gospel, jazz, even classical. Our job is to get the music where it needs to go, and to give the consumer powerful, positive and sonically correct music." Tre's analogy of cooking is packaged with another analogy: that of a chemist. He sees his role as mixing and matching the right producer and engineer with the right musician, the right singer, the right song, the right backing tracks, and the right studio room. Both such analogies are apt. With a strident goal to "get the best out of the artist" Tre' is a masterful chef/chemist combining the right ingredients and cooking up stellar music for artists in every genre. When I asked him if it was an exact science, he said, "Absolutely."
The Other Cooks in the Kitchen
Chris Cutta Baldwin, otherwise known as "Young Chris," is a man of few words, but those he imparts to the eager listener sparkle with insight and wisdom. Chris bears his moniker well, since youthfulness is the first obvious trait about him. At only 24, Chris already has a decade at Diamond under his belt, having been discovered for his talents when he was only 14-years old. Chris is known far-and-wide as, perhaps, the best music producer and engineer in the state. He has a natural ease with music, preferring good quality anything to a particular label or genre. "Whatever gets my creative juices flowing, that's what I'll do. It don't matter if it's folk music or river dancing, or recording poetry even. I'll do it all. It's all art to me." What comes across instantly is that Chris is a true aesthete. His favorite part of the job is this: "Every day I walk through the door and I get to create something new, something that didn't exist yesterday."
Sitting in front a giant mixing board is where Chris looks most at home. I tell him that the board looks really complicated. "Not really," he gently corrects, "It's a big remote control." We both agree that the set-up in the studio "looks good to the eyes." He talks me through the interfaces and the technology, pointing out the Pro Tools HD Rig, the Neumann U87 microphone, and the Avalon 737 processor. Even though some of this is lost on me, I pick up on a few names. "The Neumann is a, what? $4,000 mic?" I ask. "Yeah," he grins proudly, "We only carry the best."
I asked Chris about his personal musical influences, and he cited Quincy Jones ("pretty much the godfather"), Parliament, Isaac Hayes, Dr. Dre, Timbaland, Kanye West, Kings of Leon and Muse. In fact, every guy up at Diamond seems to be a huge fan of Muse.
Chris really lit up when it came to discussing the ins-and-outs of the music industry and how the internet has changed the face of the industry. I ask, For better or worse? "With a home set-up, you get what you pay for. The quality just isn't there. But, if you're recording your own stuff at home and putting it on the internet to be discovered, if you're good enough, you'll be found by someone," he responds and then goes further to caution, "The thing is, if you're discovered or signed you're going to have to professionally redo your music anyway. In a studio."
His only complaint about the internet-as-industry-platform is this, "The internet exposes it all – the good and the not-so-good. There's no way to filter quality anymore. That's why major labels have flipped on their old philosophy and are now involved in every piece of the music-making process." Chris wisely applies the Iceberg Principle to the music industry, "Really, this industry is 90% business and 10% talent. You give me the most talented musician in the world with no head for business or marketing and I'll show you someone who's going nowhere." The talent is the exposed top of the iceberg, the thing that most people think is the only quality required for success. Chris argues that true success comes from applying business acumen to a solid sound, a quality mix, and reliance on a trusted group of people to produce you. He points to Drake as an example, "Drake had a career on camera, but he was able to get with the right team of people to do music. He gave away all his music for free, and because of that, he was able to tour with the biggest names in the industry. That's good business."
With talent at his fingertips, and good connections, I had a feeling that Chris is really going places. I ask him what his next career move is, and he says humbly, "I still have a whole lot of room to grow. I'm still evolving. I can always be better." Ideally, Chris wants to stay in Oklahoma and do big, mainstream projects, but "Oklahoma is not that kind of market yet." Why don't you help shape it into that kind of market, I ask. He says he'd like to. "I could create something 'here' and take it 'there' or move to a bigger market, but I want to stay and help put Oklahoma on the map." I tell him I'm glad he wants to stay here because it would hurt Oklahoma's music industry to lose a talent like him. He refuses my praise, saying simply, "I don't do a lot of boasting and bragging, but I know my worth."
Meeting Hamza "Feelhood" Lee was an awe-inspiring experience. The main engineer at Diamond Recording Studios has a reputation that precedes him, and he is every bit the measure of that reputation. He started running things full-time last year, but has been off-and-on at Diamond since 2006. Hamza had been living in New York City since 1993, where he moved with the music group Color Me Badd – a group he helped create. The previous producer, Keytech, was unable to work at Diamond any longer, so Tre' asked Hamza and his brother, Semaj, to come fill in. It was their arrival that helped launch Diamond into working in more genres of music. Hamza has been instrumental in recreating the image of Diamond, and he is responsible for all of their technological studio overhauls. "To compete with people doing multi-platinum music, we need their toys," Hamza shares wryly. "We don't want our local bands to sound local."
Standing in Studio B, where Hamza usually works the most, I notice that the setting is very slick, but also very laidback. "We want it to feel like home," Hamza says. "The music-making process is intimate and the artist often feels vulnerable. It is our job to do two things for them: 1) Make a great sounding record, and 2) Give our artists privacy and nurture their creative energy." All of the producers and engineers at Diamond share this philosophy, and strive to protect and nurture the talent that comes through their doors."You see, we're now competing against home studios. You can produce a hit record in your bedroom, but it will sap your creativity. At Diamond, we do all the heavy lifting. All you need to worry about is yourself." Hamza's gregarious personality is underscored by his sense of humor and his gentle spirit. Like Chris, he's also an aesthete, but more than that, he has a finely honed critic's ear. "I've been in every studio in Manhattan. That type of professionalism and quality recording used to be scarce in Oklahoma. Diamond is like bringing a slice of New York or Los Angeles to the city."
Hamza isn't just an engineer, in fact he's worked in many areas of the music production business. He's personally responsible for getting groups signed to Elektra and Sony, and Color Me Badd owes much of their success to his efforts. I was impressed with his history, but Hamza wasn't bragging. He was just telling me his story. I was inspired to be talking to someone who worked in music in the 80's and 90's when legends were being made.
Bjork is Hamza's favorite artist for "her complete and utter fearlessness." Hamza glows when he talks about Bjork, "If she's scared of anything, it doesn't show up in her art. Or, I guess, if she is scared of anything she hits it on the head with her art." He considers her the bravest music artist since Miles Davis. "She's kept me sane from '93 to now." I ask him what gives with all the Muse love around the studio. "Muse, although they might suffer a tiny bit from U2 envy, is doing really creative work right now on a major level. The composer, Matt, is an obvious fan of Han Zimmer. Muse might get stuck in the D-minor clutch occasionally, but that's forgivable." Listening to Hamza – someone with a deep and abiding knowledge of quality music – dissect this band was a pleasure to listen to. He went on about Muse and I soaked it all up, knowing very little about what he was talking about, but at the same time, appreciating his expertise.
Hamza's take on the local talent is this, "We keep our radar up for local talent, but they need to be a natural born entertainer." He cites local artist, Sha Sha Jones as one such entertainer. "That girl is an extraterrestrial," he exclaims. "Her musical instincts need to be studied."

Sha Sha Jones Video for "Blow Your Mind" which was featured at 2009's deadCENTER film festival and filmed in Deep Deuce
Hamza is quick to reassure me of the quality that sets Diamond apart, "You're not going to get on the radio unless your music is sonically correct. That's why studios like this one are still relevant. We offer state-of-the-art equipment, talented engineers and producers, and an intimate setting for the artist."
A Reason to Be
Tre' and his group are all driven by a lifelong passion to perfect and understand good music, and to record it. They're aware that Diamond isn't the only local facility to record at, but unlike some studios, Diamond pays attention to even the most minute detail. It's what sets them apart. With quality work comparable to any studio in any major city, they set affordable prices to meet the local demand.
Tre' and Hamza are in a unique position, since they have both seen all sides of the industry. Hamza's work with Color Me Badd and Tre's work with Colorblind brought them into major recording studios and into corporate boardrooms with record executive big wigs. They've done session-work, producing, engineering and songwriting for the better part of their respective lives. Their dedication to Diamond and its cadre of artists is immeasurable. Chris's talents are dynamic and sensitive, and even though he's "Young Chris" he's got an old soul.
I ask Tre' to share advice to young artists out there seeking to break into the industry. "I promote independency in today's music industry. The pot is always sweeter that way. It would be most idealistic to make it without the record labels." He warns, "Major labels are on their way out, thanks to advances in technology. Record companies, are for the most part, racketeers. They contractually obligate you to studio time in their overpriced studios. However, if a major label actually sifts through the mountain-high stack of cd's in their A&R department (sent in from thousands of aspiring artists) and actually offers you a deal listen to it, analyze it, and consider it. If it's a great one…take it." Otherwise, "keep your name, your money, and your record independent." Recording independently means the artist sees more of the money they earn, instead of just a small percentage.
The Shape of Things to Come
"We have always been about supporting local music," says Tre'. As such, Diamond has launched their own record label, CBI (Charlie Barbara Inc.). They are now poised to help an artist with everything from recording to marketing, promoting and booking shows. They are also close to locking down a major manufacturing deal so they can press their own CD's. They are in the midst of strengthening their distribution deals and radio campaigns as well. "We don't inflate our prices at all," says Tre, "because, having been there ourselves, we are sensitive to things like that." When I asked him why he feels Diamond is important to the local community he shares, "We want to do something good for Oklahoma. You know how Nelly put St. Louis on the map? A good artist with good sounds coming from Oklahoma can do the same thing. And we can help make that happen."
LINK INFO:
http://diamondrecording.net/
1732 Northeast 36th Street
Oklahoma City, OK 73111-5229
(405) 427-7199