When:
2014-01-17T00:00:00+00:00
2014-01-18T00:00:00+00:00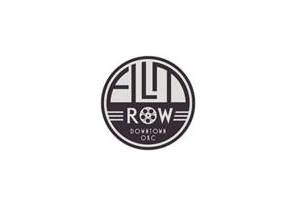 An interactive park constructed inside IAO Gallery will debut at Premiere on Film Row, a public block party from 6 p.m. to 9 p.m. on Friday, Jan. 17 along W. Sheridan Avenue between Dewey and Shartel avenues downtown. The interactive park will be located at IAO gallery until February 21st. Then it's open on Saturdays from noon to 5 p.m. After that date, the event's publicist Rob Crissinger notes, "who knows where it might pop up next."
Premiere on Film Row, sponsored by Fowler Honda, is a family- and pet-friendly event on the third Friday of each month, year-round, featuring film screenings, live music, art exhibitions and gourmet food trucks. There is NO COST to attend.
Oklahoma City's first indoor urban park will be an immersive, interactive playground designed by local artists to encourage creative exploration for kids and families. The park will include Lego and sandbox play areas, ceiling kite flying, multi-media green screen, noodle forest, balloon animals and hula hoops. Seeking Sitters will provide professional supervision.
"Similar to a children's museum in its approach, the idea is to provide a safe, visually engaging atmosphere for kids and parents with guided play zones and activities that challenge attendees to decide on their own how they want to interact," said Jonathan Fowler, vice president of operations for Fowler Holding Company.
The "park" opens to the public with a reception at 6 p.m. featuring live performances by Sugar Free Allstars, Spaghetti Eddie, and The Flukes, and cold pressed organic juices by Organic Squeeze. IAO Gallery is located at 706 W. Sheridan Ave. The park will remain open every Saturday through February during the gallery's regular hours: noon to 5 p.m.
The Spy FM will debut 'The Social Hour,' a live radio show hosted by Ferris O'Brien and a special guest from 7 p.m. to 8 p.m. inside the Hart Building each month during Premiere on Film Row. The show will air on KOSU 91.7 FM and at thespyfm.com and focus on what's happening at the block party and the latest news from the Oklahoma film and music industries. The public is invited to watch and listen to the show in person, as it is happening, while enjoying wraps and fruit by Film Row restaurant Chopt and wine and dessert by The Paramount OKC.
The theme for this month's event is "Thank You Very Much," with several venues paying tribute to Elvis Presley.
Elvis tribute band Mike Black & the Stingrays will perform at 6 p.m. at Dunlap Codding, a patent, trademark and copyright law firm located at 609 W. Sheridan Ave. There will also be a district wide velvet Elvis scavenger hunt. Check-in with Julie Oseland at the event for details.
Art rock band The Uncanny Violet Unicorn will perform in The Paramount OKC café from 7 p.m. to 10 p.m. and Breck McGoff, a composer from Haworth, Okla., will perform an original score with the 1925 silent Western film "Tumbleweeds," about the Oklahoma land run, in the screening room at 6:30 p.m. (run time 78 minutes). OKC Improv will perform live comedy in the screening room from 8 p.m. to 10 p.m. Elvis-inspired peanut butter and banana sandwiches will be served in the café.
The Paramount OKC is located at 701 W. Sheridan Ave.
Pop singer/songwriter Blake Fischer will perform at 7:30 p.m. at The Hub, located at 7 N. Lee Ave. next to The Paramount OKC. Locally produced craft beer will be served.
Oddfab Design Lab, located at 703 W. Sheridan Ave., will host an art exhibition featuring recent works by Trent Lawson, select Elvis-inspired folk art pieces from Dig It Boutique and Hugh Meade's 'rock throne' flaming guitar chair from 6 p.m. to 10 p.m. There will be a cash bar.
"Trent's work combines exceptional technical skill in painting with subtle humor. He presents works painted on black velvet, in keeping with this month's homage to the king of rock and roll," Oddfab owner Hugh Meade said.
Gourmet food trucks will include La Gumbo Ya Ya, Smokin' Okies and Off the Hook Seafood and More. La Gumbo Ya Ya will serve Elvis Sandwiches: fried peanut butter and banana po' boys, as part of their menu.
Film Row is the last remaining film exchange district in the U.S. Beginning in 1907, Hollywood studios including Paramount Pictures, Warner Bros., Metro-Goldwyn-Mayer and Fox Films had operations in the 42-block area between Classen Boulevard and Walker Avenue along Sheridan Avenue. Film exchanges served the film industry as distribution centers, where theater owners came to view and lease films. Film Row was listed in the National Register of Historic Places in 2007.
Event updates will be shared via Twitter (@PremiereOKC) and on the official Facebook event page.