By Derek Moore
I'm back this week with a fresh batch of songs to share. You will probably have heard of at least a few of the artists included in this week's playlist as some big releases have occurred as of late.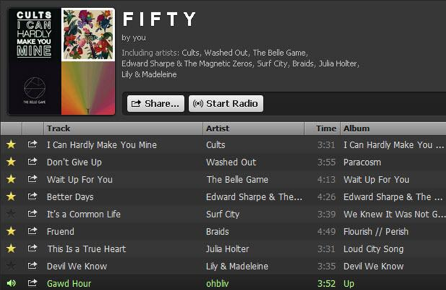 If you don't have time to listen to the whole collection just yet, I'd recommend a few personal highlights:
"I Can Hardly Make You Mine" by Cults is the first taste of their sophomore album Static, and while it sounds like the band won't veer too far from their already proved-to-be-satisfying sunny 60's throwback appeal, there's a noticeably stronger bite to the tune. The album will be officially released October 15th.
"Wait Up for You" by The Belle Game is my first introduction to this band. I don't know much about the group, but it's obvious they're smart listeners that know how to apply influences to their music in innovative ways so as to sculpt the end product to be very much their own.
"Fruend" by Braids showcases this band well. Deep, ethereal textures pervade singer Raphaelle Standell-Preston's layered vocals to create complex, thoughtful songs that leave you wondering down which rabbit hole they'll guide you next.
"This Is a True Heart" by Julia Holter is classy. I would recommend that you listen to Loud City Song in its entirety. This album is definitely going to be in the running for my favorite releases of the year.
Now quit reading this, and get to listening.