Jan
16
Thu
OKC FILM CLUB/DAMAGED Viewing Presents: STARCRASH

@ The Paramount OKC
Jan 16 @ 1:00 pm – 3:30 pm
The DAMAGED Viewing Film Society, inspired by the absolute litany of Louis Fowler's DAMAGED outings (DAMAGED Magazine, the DAMAGED Hearing radio show and the DAMAGED Viewing movie podcast), is a fun and funny live version of the absolutely insane world of trash and cult cinema, presented without pretension or prejudice.
Hosted by Fowler and Patrick Crain, two cinema obsessives whose love of obscure film goes far beyond the realms of the silver screen and into the dumpster behind it, DV's mission is to bring these classic (and not-so-classic) movies out of obscurity and present them, warts and all, for a public eager for something they've never seen before. DAMAGED Viewing explores a world of wild cinema that only the dark and dirtiest of us even knew existed.
Trash Cinema. Cult Film. Obscure Movies. Outré Images. Insane Storytelling. Unheralded masterpieces. This is DAMAGED Viewing.
* * *
STARCRASH
"A low, low budgeted film from over 30 years ago, from country not so far, far away…"
For the inaugural DAMAGED Viewing presentation, we're proud to show the 1979 Spaghetti sci-fi flick STARCRASH! Written and directed by Italian b-movie icon Luigi Cozzi, this STAR WARS-inspired space opera—one of the first—is, in our opinions, better than anything George Lucas could've dreamed up. Sultry starlet Caroline Munro is intergalactic warrior Stella Star, who, along with her alien sidekick Akton (Marjoe Gortner) and cowboy robot Elle, takes on the evil empire of Count Zarth Arn (Joe Spinell) and rescues the dashing Prince Simon (David Hasselhoff). It's sojourn through hyperspace that, in a just, alternate universe, would've been the biggest movie franchise of all-time!
Like all OKC Film Club events, this is free and open to all.
Jan
24
Fri
Horse Thief ∆ Moongiant ∆ Aaron Pierce Band

@ VZDs Restaurant and Club
Jan 24 @ 8:00 pm – 12:00 am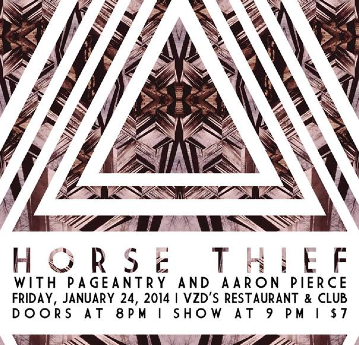 January 24th, 2014 *ignore the calendar jankiness, we're working on it*
Horse Thief w/
Pageantry and Aaron Pierce Band
at VZDS Restaurant and Club
Come help us bring in the new year with our first show of 2014!! Playing songs off of our new record out this spring as well as songs we have been working on over the winter.
$7
Doors at 8:00
Show at 9:00
"Unfortunately a member of Pageantry has come down with an Upper Respiratory Infection and wont be able to make the show tomorrow. We have decided to add our good friends and fantastic musicians MoonGiant to the line up. They will open up the show, followed by Aaron Pierce!!"
Horse Thief
Pagentry
Aaron Pierce Band
Moongiant
Feb
15
Sat
Adèle Wolf's Burlesque & Variety Show // Valentine's Affair

@ Oklahoma Contemporary Arts Center
Feb 15 @ 2:00 am
Celebrate Valentine's Day with the sultry art of the striptease and amazing variety acts! Our guest stars this month are Angela Ryan, Annie Cherry, Jonna Page, and Damian Blake! We'll be celebrating love and romance in a show complete with door prizes, photo booth, audience participation games and more! Dress to impress!
Doors: 8:00 pm
Show: 9:00 pm
Tickets:
$20-35 in advance
All prices will go up $5 at the door so get them in advance!
Limited VIP tickets available! Get front row seats and a poster signed by the cast!
18+ to enter
21+ to drink
Burlesque:
Angela Ryan, Dallas, TX
Annie Cherry, Kansas City, MO
Adèle Wolf, OKC
Pole:
Jonna Page, Dallas, TX
Vaudeville:
Damian Blake, Kansas City, MO
Bellydance:
Zafirah Amar, OKC
Vocalist:
Renee Anderson, OKC
Door prizes from:
Aalim Bellydance Academy
Adèle Wolf's Burlesque & Variety Show
Bad Granny's Bazaar
Dig It
Miss Pole Dance Oklahoma
Vendors:
Chic Stitchery
About our Guest Stars:
Angela Ryan:
An internationally published cover model, Angela Ryan hails from Dallas, TX where she started the first neo-burleque troupe in the city in 2004 called "On the Fringe" with Jami Deadly and Athena Fatale. Following that she toured the US with the FluffGirls, and ran away with Brothers Grimm sideshow for Ozzfest and Family Values tours. She has headlined events internationally from London to Lima, Peru. You can also find this pinup and fetish model on the cover of numerous publications including Bachelor Pad, Leg Show, Gothic Beauty, EasyRiders, Retro Lovely and most recently Rebel Rodz.
Damian Blake:
Damian Blake is a man of many faces. A Kansas City actor, artist, and physical comedian, Damian started his obsession with silent film and offbeat humor at an early age. He hosted his 4th grade talent show as Groucho Marx, complete with musical numbers and wink-wink double entendres, and started dressing as Chaplin at age three. Recently he has appeared in the Coterie Theater's 'Lyle the Crocodile' and 'Slashdance', and The Living Room's 'A Bucket of Blood,' and 'The Accidental Waiter'. He, along with his wife Annie Cherry, is the co-founder and co-producer of both 'The New Century Follies' and 'The Nightcap', a live late-night talk show. They also travel the United States as entertainment-for-hire at private events and variety shows. He has provided baggy pants comedy and the occasional striptease to countless burlesque and vaudeville shows, and was recently crowned the King of the 2013 Kansas City Burlesque Festival. Damian is also an internationally recognized Charlie Chaplin impersonator, having appeared as Chaplin in print, on film, and for numerous corporations.
Annie Cherry:
Annie was born at high noon in the springtime, near the mighty, muddy Missouri River. She grew up dancing, singing, and making people laugh. As a young woman, she fell prey to the lure of a belly dancer's swaying hips, inspiring her to learn how to shake her own moneymaker. The earthy drumbeats evolved into the thrill of the jazz band and the bump 'n' grind, and Annie's career moved onto the burlesque stage. When Annie's personality began to outgrow the barroom stages, she pushed her way into just about every vintage venue her fair city had to offer. Her deep love for the shimmy and shake remains strong, as she also explores other forms of self-expression, from pantomime to street performing, film acting, writing, and producing theatre. She now co-produces The New Century Follies, a large-scale authentic vaudeville show, and co-writes and produces 'The Nightcap', a live, camp-filled late night talk show.
Jonna Page:
Originally from Fort Worth Texas, Jonna Page has danced all over the DFW since she was 11 years old. She began mastering dance styles ranging from lyrical and jazz, to hip hop and modern. Jonna was a member of her hometowns high school drill team and went on to teach lyrical and drill prep for girls ages 6-14. It was when she found pole fitness in 2011, when she truly developed a passion for one of the most challenging and artistic dance genre and became a certified instructor at The Girls Room in March of 2013. Jonna has performed at many well-known venues and has had the privilege to work and privately train with aerial professionals such as Karyn Pentecost, Amy Henderson – the first Miss Texas Pole Star of 2010, and Claudia Rabago – Miss Trickster and 2nd Runner Up MTPS 2013.