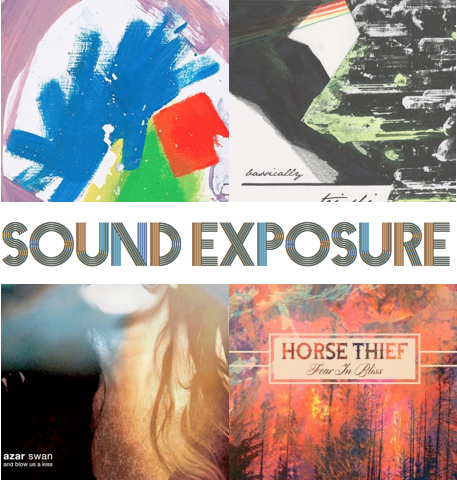 I kept this playlist to 30 songs. Each represents an artist or group that released a new single, EP, or LP this year that I either really liked, or loved enough to buy it, go see the artist in concert, and/or pursue an interview. Would you call this list "alternative"? Considering I'm in Oklahoma and really don't listen to most forms of local radio, yeah. Is it unique given what else is out there? Maybe. I know other people may share some preferences for these and other artists I listen to frequently. Anyway, here's how I'd describe this edition of Sound Exposure in about 600 words or less.
Imagine you've been scrolling online music lists all year when you land on a literate indie music outlet with an ear for folksy choruses, dream pop that's reverb-laden, and has a bent for psychedelic sounds. Mixed in are snippets of hip hop, variations on electronica, experimental jazz, and sweeping instrumental tracks that all conjure something of cinematic air.
Some production values tend to be slick, although others are distinctly low-fi.  If you happen to be one of those people who like fuzz and distortion no matter the music genre, then you should find a few favorites or new favorites on here too.
If you're one of those people who cares about the lyrics, then these songs are well-written in one way or another. Take Alt-J, for example, they used a sample from an artist many roll their eyes at, and interjected it into their song as an odd juxtaposition. Yet with a hip hop group like Young Fathers, it's the weird way they matched their instrumentals to their lyrics with a little more intention, which makes their songs real treasures to listen to. Also featured on this list: Kate Tempest. She is a spoken word artist who is a Ted Hughes award winner, and had been up for a Mercury this year for her music album "Everybody Down."
You can also expect to encounter the strange "turn of phrase" from immigrants traveling far from home to pursue a dream in either America (Juan Wauters) or England (Popstrangers). Many of these songs are vignettes that can stand on their own, but should they catch your interest, know the EPs or LPs they come from are worth a full listen.
Those with an ear for quirky, yet technical musical compositions may be familiar with guys like Flying Lotus, for whom making art is a primary motivator when recording new material. With that in mind, A Winged Victory for the Sullen (Erased Tape Records), is a group who's album Atmos came about to satisfy an art need. The director of a modern dance company had been looking for a specific sound with which to guide the choreography of his dancers. He liked the group's previous output enough to approach them. These things also owe their existence to all the indie labels out there that respect developing music as an art and not so much a mass appeal product.
There is no favoritism assigned to the order of these songs. I tend to build my themed playlists like story books. The links go to interviews or articles I've published on okc.net. Quilt, Juan Wauters, and Tobacco were among the interviews I successfully completed this year along with others artists not featured on this playlist.
New Year's Resolution for 2015: publish more of those.
Alt J – This is All Yours
Tei Shi – Bassically
Azar Swan – And Blow Us a Kiss
Horse Thief – Fear in Bliss
Warpaint – Warpaint
Papercuts – Life Among the Savages
Young Fathers – Dead
Youth Lagoon – The Space Project
A Winged Victory for the Sullen – Atomos
Quilt – Held in Splendor
Popstrangers – Fortuna
Kate Tempest – Everybody Down
Juan Wauters – N.A.P. North American Poetry
Future Islands – Singles
Fear of Men – Loom
Bombay Bicycle Club – So Long, See You Tomorrow
Beck – Morning Phase
Angel Olsen – Burn Your Fire For No Witness
Wye Oak – Shriek
Perfume Genius – Too Bright
TV on the Radio – Seeds
Deep Sea Diver – Always Waiting
Eternal Summers – The Drop Beneath
Damien Jurado – Brothers and Sisters of the Eternal Son
Saintseneca  – Dark Arc
Flying Lotus – You're Dead!
Bear in Heaven – Time is Over One Day Old
Sylvan Esso – Sylvan Esso
Tobacco – Ultima II Massage
Hospitality – Trouble
For the ones I couldn't include, but really liked enough to long list, this link right here.