By Danny Marroquin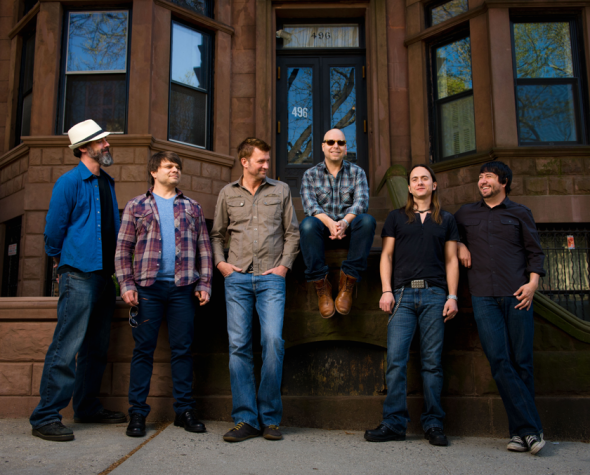 At 6 p.m. Sunday, Sept 1st The Verve Pipe will headline Wiggle Out Loud, Oklahoma's first Kindie Rock festival at Bicentennial Park, 500 Couch Dr., downtown. The event runs from 11 a.m. to 7 p.m.
What goes around comes around. And sure enough nostalgic interest returned for the serious minded post-grunge music of the late nineties. Lead singer of the multi-platinum band The Verve Pipe, Brian Vander Ark, heard it through gig opportunities.
"We were offered to go on these 90s reunion tours and that did not appeal to me whatsoever," Vander Ark says. "Rock boats and those kinds of things. We said let's do something different."
After a friend offered them a slot to record a kid's song on a charity album, Vander Ark says the band fell into recording a bunch of kid's-family music. There was 2009's "A Family Album." And now, "Are We There Yet?" a set of high energy tunes told from the earliest impressions of school days– "I'm Not Sleeping In (Cuz It's Saturday)," for example.  The reshuffled group enjoyed it. And found plenty of gigs through it.
"When we did The Family Album we had no idea that Lollapalooza had a kid's stage. We fell ass backwards into these opportunities to do this fun music.  We were doing [a lot of shows again]. We sometimes do two shows a day. [In OKC] we could very well do a bar show that night."
The Verve Pipe started as a successful high energy bar band in Lansing, Michigan, inspired mostly by Nirvana and Bob Mould. They made their splash into pop and alternative radio with the song "The Freshmen" from their 1996 album "Villains." When I heard "The Freshmen" for the first time,  over the loudspeaker on an elementary or junior high field trip to Frontier City, the song instantly joined other voices as a gateway to "serious music." The largely fictional song gave itself space and dealt candidly with a girl who gets an abortion and later overdoses on Valium. "I won't be held responsible," the young narrator sings, trying to hold onto his innocence. The single echoing notes at 1:50 took the emotions home. There were soon other songs about death that stood out among the angsty youth culture of the time:  Blink 182's "Adam's Song," Third Eye Blind's "Jumper," Counting Crows "Round Here."
Vander Ark remembers the song being different from everything else on "Villains," tracks with straight rock production and ambiguous lyrics. "The Freshmen" was a story song that cut right to the chase.
"That song had been written five or six years earlier," he says. "I think it really was the production and mixing that made it make sense. When people bought the album it wasn't too much of a grasp to get to the other songs and have it make sense . I recall it having the same guitar tones and the same feel. I still think it fits with that genre and that time."
So in steering his songwriting for kids it was a nice change for Vander Ark to write less angst driven material from a new perspective, or throw an oboe in here and there. Indeed, the family songs brought the band back together into the 2000s.  But still, the heavy stuff was a presence. In writing the song "When One Became Two" on "A Family Album," Vander Ark had to reformat the song he was writing, "When Three Becomes Two," about the death of a child. Finger snaps, a woodwind, barbershop harmonies and a snappy beat accompany the new, finished lyrics.
"I still remember that day in September when I heard that three would be four/ It gave me the spins when I heard it was twins/ We were jumping for joy for a new girl and boy / And so what was to be was much bigger than three/ It's beginning to look like a family"
This new direction doesn't please all audiences. The band once played a festival in Birmingham on the kid's stage. Fifty kids, appreciative of the lighting-quick sets, watched, while the adults yelled for "The Freshmen." The band declined to play it. The adults booed.
"Whatever, I'm no stranger to getting booed," Vander Ark says. "We went out with KISS for thirty days. I'm not a stranger to getting booed." [Kiss fans are notorious for booing opening bands.]
But Vander Ark does appreciate the song. A self-described nomad, he sticks to the road, making living money on the new niche and solo shows too. While "The Freshmen" comes in handy.
"Sure, there's always going to be 'The Freshman,'" he says. " It would be nice to have three or four more of those in me;  but it's enough to pay the mortgage.  But that's about it. It doesn't take care of the taxes."
Wiggle Out Loud is free and open to the public. There will be fitness activities and hands-on arts and crafts. A side stage will feature junior local musicians, a bell choir from Cleveland Elementary and Mariachi band from Fillmore Elementary.
 The full schedule: 11 AM: Monty Harper, 12:10 The Red Dirt Rangers, 1:20 Jim Cosgrove, 2:30 p.m. Secret Agent 23 Skidoo, 3:40 Spaghetti Eddie, 4:50: Sugar Free All Stars, 6 p.m: The Verve Pipe