If a picture is worth a thousand words, Kendall Brown hopes hers will represent voices that might be otherwise unheard.
"Snapshots of an American Autumn: A Portrait in Protesting," an exhibit opening this weekend at Mainsite (122 E. Main in Norman) is Brown's contribution to a conversation about the Occupy Movement. In Dallas, Texas, Brown spent the first week of the occupation embedded with protesters. Shortly before the encampment was shut down, Brown even made a second trip to Dallas, utilizing what she explains as a "photojournalism approach with a fine-art objective." Brown also traveled to occupations in Norman, Oklahoma City and Tulsa, encamped with the group during the death of an occupier in Oklahoma City and rights of arrest in Tulsa.
Her collection of protester portraits, also dubbed "Occupy Mainsite" by some, shows a range of experiences and voices from across the heartland of America. These voices of protest, however, are echoed around the world.
Her motivation?
"[I want to] understand what their individual motivations are, as well as the collective force that binds them together as a group," she said. "I want people to start talking and learning from one another before judging."
Brown describes the initial coverage of the Occupy movement and its polarized nature, which she believes encouraged viewers to make hasty judgments and broad generalizations about the movement, most of which would prove to be false.
Brown is the sole photographer in the show, but credits each person photographed or interviewed (at all the encampments she visited) as responsible for the event.
"It's their faces you're going to see, and hopefully their voices you're going to hear," she said. "It's as much their show as it is mine."
Rather than show the protesters in the midst of their environment, Brown chose instead to remove the protesters from their surroundings. This move, she said, is "more fine art than photojournalism."
"This allows the viewer to see the protester for who they are as a human first," she said.
The images, printed large-scale on reverse film, will be displayed in light boxes, giving the protesters almost a glow.
Brown credits the Norman Arts Council for their guidance, and for offering her a venue. The show was funded largely through a grant from the Oklahoma Visual Arts Coalition, the rest funded by individual donors, many of whom Brown has never even met. Lastly, she thanks Jason at Sublime Signs for printing all the large format, 4-by-6 foot images on vinyl.
Eventually, Brown hopes to raise the money to exhibit the portraits alongside a newspaper she designed. Currently, the show is based purely on donations and what Brown contributes from her own pocket. She makes no personal profit from the show. The newspaper, filled with information about the Occupy movement and additional images she shot, is something Brown would like to give to attendees.
"I hope that when the show opens, both Occupiers and those that have been very opposed to the movement come out," she said. "I want to get these two groups talking. I think if people take the time to listen, they wouldn't be quite so scared."
She hopes to see viewers with open minds, regardless of which "side" they are on.
"Even if someone wants to come just to tell me how much they disagree [with the Occupy movement], I'm okay with that," she said. "We can have a glass of wine together and chat."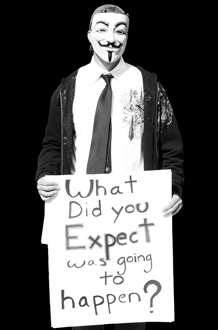 "Snapshots of an American Autumn: A Portrait in Protesting" will be on display from June 8 to July 21. Mainsite's hours are from 11 a.m. to 4 p.m., Tuesday-Saturday.
Brown will continue to shoot in Oklahoma and Texas, and will attend both the Occupy movement's northern and southern regional conferences. She will continue to immerse herself in the protest, standing alongside the occupiers and camping beside them to get the full picture of their experience.