Let it never be said that the NBA is bad at branding. I remember all of the bitching and whining when the OKC Thunder logo was first announced; between the advertising genius of the NBA and the basketball genius of Durant and Co. , the city seems to have warmed up to that logo quite nicely,
Speaking of warm, let's launch right in, shall we?
OKC used to be like that plain piece of bread. Pretty cool, wholesome, lots of fiber…but what if we put a basketball team logo all over it?
I love this. I might buy one for the office. If nothing else, the potential for commentary is fantastic.
"THE ONLY THING HOTTER THAN JAMES HARDEN RIGHT NOW IS THIS PIECE OF WHOLE GRAIN TOAST, STEVE."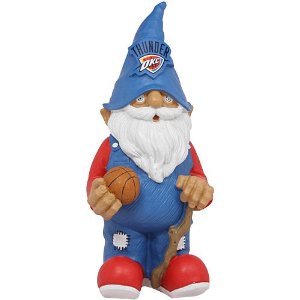 This is how you make it 100% clear to the neighborhood gophers that you will not tolerate any of that Spurs talk in your yard.
The best block the Thunder get this year could be the one that keeps a piece of re-bar from going through your skull.
I didn't know that headbands were still a thing. A lot of sports merch seems to have been designed in Central Jersey circa 1986 and never changed, and this stylish headband is no exception. Props to the makers of this headband for finding the one model in the world who can make a headband look kinda okay.
Is it just me, or is this adorable as shit? I sorta get the feeling that this isn't official merch, since it seems like Rumble is on every kid branded thing the Thunder make, but as I now understand, the NBA will let pretty much anyone put any logo on pretty much anything.
For the basketball fan who has everything, but also would like some Mrs. Fields cookies. Look forward to receiving these from a virtual stranger at your office's Secret Santa ceremony this year.
Setting aside the mixed metaphor, some photos on Amazon are like tragic short stories. I've written a haiku about this one.
The accountant sighs
No golf, no music. No time.

Swing. Miss. Thunder up.
If I owned a sports bar, I might buy this. There is no other acceptable reason to spend 750 bucks on this thing. Anyone who is inclined to purchase it for your house, please take a moment to review your priorities.
The item description says it all. "Beanie Ballz are a little wild and whacky."  I want to mock this product, but it kinda feels like it's staring into my soul right now. I feel like I need to click through and buy it.
Somewhere at the intersection between poor design, intellectual property theft, and a very nearly admirable entrepreneurial spirit, there is this shirt. If you've ever looked at someone's shitty truck decal of Calvin pissing on the Chevy/Ford/Dodge logo and thought "I wish there was a way I could wear that sentiment". Here you go. If I saw anyone actually wearing this, I would probably laugh at first and then feel kind sad.
Lol. Lol lol lol.
If you order all of these things now, you might have them in time for the next game. Thunder up, y'all.