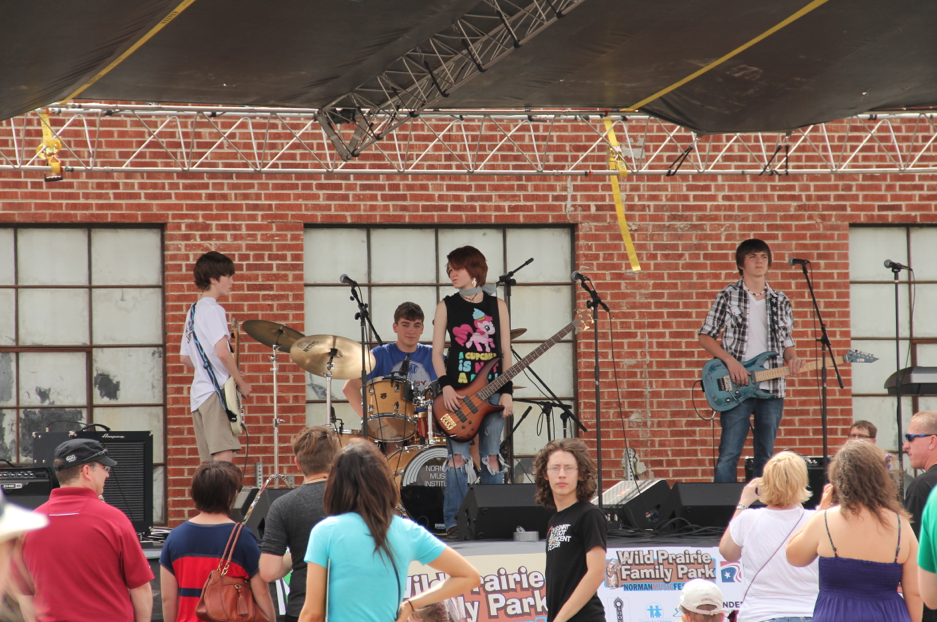 The fifth Norman Music Festival took place over the weekend, and it was…well, it was a music festival. I'd never been before, and it was cool. I wasn't sure if I'd like it because I haven't been into live music festivals lately. But it was like going to the State Fair, but fun, and not quite as silly. As the pictures below will show, it was certainly silly, just not state fair silly. From the children's stage where emerging talent can log some stage time to the Dustbowl Arts market, the event had a little bit of everything. There were even a few political booths, which was a feature I hadn't been expecting. But it makes sense, music and politics.
Managing Editor Helen Grant, OKC.NET, friend Brian Barbee, roommate Kyle Olson, and myself set out, and caught several acts, including a heavy metal act and a jazz fusion act who were playing on the main stage Saturday afternoon. If you've never been to the Norman Music Festival, you should go next year if nothing else than to see local bands and hear what Oklahoma has to offer. Word has it that the Evangelicals, a band I'd never heard of until now, are ones to watch.
Another interesting thing about Norman's music festival was that the "Dum Dum Dah Dah" music video by The Nghiems won Pros Pick at NMF5 and was screened in front of thousands of people on the main stage. If you missed it, check it out below on youtube.
[youtube]http://www.youtube.com/watch?v=v-Bw-Fokj94[/youtube]
Photos by Helen Grant.