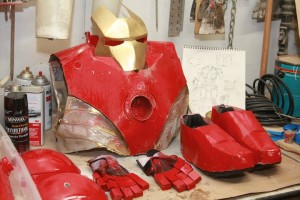 For months now, New World Comics owner Brian Berlin has been hard at work; toiling away in his shop like Tony Stark inside a page. As the days grow longer, his obsession stronger, the line between him and Stark begins to blur. Oddly enough, their ambitions are the same. Berlin is assembling the Avengers. He's building Iron Man.
 "The suit is made of cardboard, fiberglass, resin, aluminum, hot glue, Super Glue, Elmer's glue, Bondo, chicken wire, tap lights, thread, batteries, paint, cheap shoes, Duct tape, mesh, foam rubber and love," he says.
Free Comic Book Day has been on his calendar since the beginning of the year, and he's determined to make this year unique. "Free Comic Book Day is the one day out of the year for all comic retailers to celebrate and promote the comic book culture by giving away special free comic books specifically printed by the publishers," Berlin says a few days removed from May 7th, the national geek-out holiday. "For some retailers, it's the biggest headache of the year. For others… it's the biggest grossing day of the year. For me, each year is my chance to show off how the store has improved and really reach the nontraditional audience."
Looking to ride the wave of the looming Avengers movie, Berlin went to work in hopes having most of the franchise represented at his shop for FCBD."Like many of my great ideas, this one started off while I was rather drunk," Berlin admits. "I was sitting around after soccer with my buddy Sam Perry, spouting about how easy it should be to make a suit. I was convincing enough that he agreed to it, and we shortly began work on it."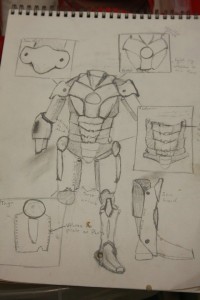 Berlin says he's been modifying action figures since he was very young and that experience aided him greatly in this undertaking, noting that he based his suits design off of three distinct Iron Man action figures. "I started customizing action figures super young," he says. "I grew up poor, so what I had needed to last. When my interest from Ghostbusters changed to Ninja Turtles, a lot of those [toys] became other [toys]. That knowledge became invaluable to making the suit. Its basic design is on action figure articulation, and how to paint and detail the suit and in what order came directly from years of figure alterations."
The man in the suit will be Sam Perry, a friend of the store who is receiving no compensation for his efforts."I don't even really read comics, but I've become friends with everyone who works [here] so I tend to get involved in whatever is going on," Perry says. With the suit near completion, Perry has had time to focus on Saturday.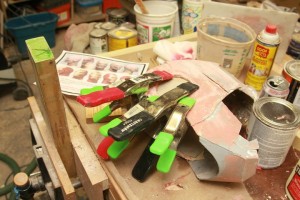 "The current plan is to wear the costume in shifts; two hours in, one hour out," Perry says. "As long I don't drink too much while in the armor, it shouldn't be too much of an issue. At least, I hope not… I have nightmares about the whole thing falling apart after wearing it for 15 minutes. I don't think it will, but Murphy's Law is always a factor." If Iron Man's suit should fall apart, he'll at least have back up.
Berlin has confirmed working on representations of Thor, Captain America, Ant-man, Wasp, War Machine, Spider-man and more. With Berlin and Perry preoccupied with all things Iron Man, much of the preparation for other outfits fell on the shoulders of Lily Martin: avid comic reader and seamstress. Martin, like Perry, also volunteered her services. "I love to sew and I love comics. I love that my friends love what I do as much as I love seeing the fantastic things they create," she says. "There was no way I could miss out."
Martin said much of the sewing was done by hand, making the whole process very time consuming. Martin fashioned Captain America's tunic out of a medley of Under Armor shirts. Koji Gritton, a real-life Navy veteran and New World Comics shopper, will be dawning the red, white and blue Saturday. Gritton noted that he wore an unfinished prototype of the costume to a party in April. "It was a big hit at the party. A lot of people were wondering who was in the suit, so it definitely kept my identity a secret," Gritton says. "Why am I doing this? Is it for glory? For fame? For the attention of millions of women? Yes to all of the above. [Berlin] says that these are the reasons as to why he's not paying me. I was like 'you make some good points…'"
With his labor of love complete and his makeshift Avengers assembled, Berlin waits for Saturday to unveil his mini-comic con of sorts; featuring a 24-hour sale, free comics, costumed theatrics, live performances and appearances by local comic writers and artists.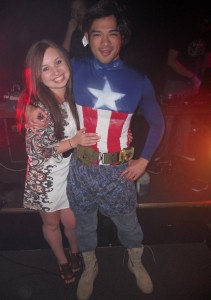 "I try to make the day very special. Any one can set out a display marked free and leave it be. I realized years ago that it's a chance to connect with new customers, or regain old customers," he says. "I'm a store that sells entertainment, so it's important to think of the store as entertaining."